Webster Ships Rental Burner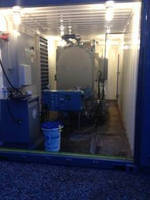 Winfield, Kansas — Webster Engineering announces the shipment of a JB2C burner for rental boiler applications. This particular unit operates at 4820 MBH output with a TEMP A TRIM air density trim system (includes VFD) to compensate for combustion air temperature changes typically found in a rental application.  Pictured below are the burner and boiler mounted in a portable trailer.  This package is UL approved with the LES HCW boiler.



The JB burner series ranges from 1,200 MBH to 12,600 MBH and is available with linkage or linkageless controls. Gas, Oil or combination fuels.