Webster-L.E.S. UL Boiler-Burner Approval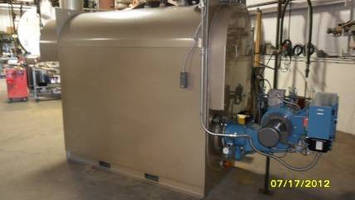 Webster Engineering – L.E.S. Boilers Announces UL Package Approval on Model HCW-4000H-80-GO Boilers



Webster Engineering and Manufacturing announces that L.E.S Boilers (Atlantic, IA) has received burner / boiler package certification from Underwriters Laboratory (UL) on L.E.S.'s  Model HCW-4000H-80-GO, 119.5 HP 3-pass, firetube, wetback designed boiler. In conjunction with Webster's JB2C-50-RM7840L burner.  Approval covers combination #2 oil / natural gas fueled burners and modulating linkage controls (camnetics).  Package rated at 19.5 gph (low fire) to 34.4 gph (high fire).  For more information on Webster burners, go to www.webster-engineering.com. Or information on L.E.S. Boilers, go to www.lesboilers.com.



More from Packaging Products & Equipment