WebRTC Solution Can be Customized to User Requirements
Press Release Summary: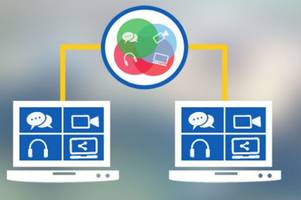 Ecosmob's VoIP WebRTC Solution focuses on areas such as conference calls, video or audio chats across various locations. The solution is designed to provide higher levels of security and flawless performance.
---
Original Press Release:
Ecosmob Announce Custom WebRTC Solution For Enterprises
Ecosmob is fast becoming known the world over as a key player in the global VoIP development markets. Of the many products in its portfolio, WebRTC conferencing is gaining in prominence. Enterprises are adopting WebRTC based solutions because of its inherent features and advantages. Ecosmob launched an improved and customized WebRTC solution squarely targeting global business enterprises.
According to a spokesperson of the company, any modern communication and conferencing solution that does not have an integrated webRTC solution is simply not worth it. WebRTC is browser based and offers unparalleled ease of use on desktops or mobiles. Ecosmob WebRTC solution is customized to suit user requirement, said the representative, because each enterprise has different needs and giving them precisely what they need in a compact, affordable package makes good business sense from both sides. Some enterprises may emphasize mobile use while some may need IoT integration. Some may prefer one to one audio or video chat whereas, in other environments, conference calls across various locations involving a number of people can be a routine matter. Ecosmob VoIP WebRTC solution development focuses on such aspects in order to enhance ease of use for customers and improved call quality as well.
What gives Ecosmob an edge in WebRTC development is that it already has acknowledged expertise in VoIP, contact center, IVR and SBC development. The company's developers integrate technologies from various segments and blend in WebRTC to raise performance and ease of use to higher levels while allowing greatest security and flawless performance. Service providers can ask for custom WebRTC solutions with white labeling and create their own brand presence by offering multi-tenant facilities.
Monitoring, statistics, reporting and provisioning are the other areas where Ecosmob gives due emphasis to customization to suit the business model of a client. Where higher security is a desirable feature, Ecosmob blends in Oauth-2 or Connex-IP or Websocket as may be required.
Asterisk WebRTC solutions, even though they are customized, are far more affordable and miles ahead in performance. Businesses benefit by improving communications and lowering costs. Inquiries for custom WebRTC development are welcome and they may be contacted on phone 91 79 40054019 or email sales@ecosmob.com or via website www.asteriskservice.com.
More from Fluid & Gas Flow Equipment