Web Tension Controller maintains consistent tension.
Press Release Summary: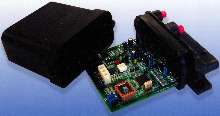 Microprocessor-based RSD200 Dancer Arm Controller incorporates adaptive control algorithm and maintains constant tension by compensating for tension disturbances. PC-based setup and calibration eliminates need for potentiometers and manual adjustments. Automatic, closed-loop system includes digital dancer position controller, EN50 electro-pneumatic transducer, DPS 30 or 60 dancer position sensor, and power supply.
---
Original Press Release:

Rock Steady


(Vadnais Heights, Minn. - March 24, 2003) Nexen Group, Inc., today announced their latest addition to their Dancer Arm Controller Family, the RSD200. This microprocessor-based controller is designed for high precision and easy operation. It features an adaptive control algorithm that provides consistent performance throughout the most demanding applications, without requiring expensive roll diameter and web speed feedback. The RSD200's PC-based setup and calibration eliminates potentiometers and unwanted manual adjustments with the controller.

Nexen's closed-loop dancer control system includes the RSD200 digital dancer position controller, EN50 electro-pneumatic transducer, DPS 30 or 60 dancer position sensor, and power supply. The RSD200 interfaces with a brake, clutch or motor drive to provide stable web tension through adjustments in dancer arm position. Dancer position sensors accurately measure the rotational movement of a dancer arm. The EN50 electro-pneumatic transducer allows the RSD to interface directly with air engaged brakes/clutches.

The RSD system is completely automatic and requires no user intervention during normal operation. Its function is to maintain constant and consistent tension by compensating for roll-diameter changes, egg-shaped rolls, and other tension disturbances. The dancer arm stores web material in a loop, and maintains constant tension by increasing or decreasing the amount of material in the loop. The dancer arm functions best when kept in its mid-range position, so it is always able to increase or decrease storage quickly. If the dancer arm position changes, Nexen's position sensor senses the movement and sends a signal to the RSD200, which provides a corrective signal to the tension brake/clutch/drive to increase or decrease web storage accordingly.

The Dancer Control System is designed for use in winding or unwinding of materials such as paper, film, foil, cloth, and wire. The RSD system works in both single roll and flying splice applications. Components can function as replacement items in existing systems and is CE compliant when used as a complete system.

Nexen is a leading manufacturer of brakes, clutches, servo motor and linear motion brakes, torque limiters, overload protection devices, and web tension control systems for a variety of industrial applications ranging from motion control and robotics to packaging and material handling. With headquarters in Vadnais Heights, Minn., Nexen has more than 40 worldwide sales offices and more than 1,500 worldwide distributor sales outlets.

For more information on the Nexen web control product line, contact:

Bobbi J. Jensen
Marketing Communications
560 Oak Grove Parkway
Vadnais Heights, MN 55127
651/286-1054

COMPANY BACKGROUNDER

Description
Nexen Group, Inc. is a leader in pneumatic power transmission components worldwide. Nexen has been producing industrial clutches, brakes, and web tension control products for nearly 50 years. Their customers span every industry - from multi-national corporations to small businesses - and range from design engineers to plant maintenance.

History
A privately held company, Nexen traces its origins to 1902 when a firm called Horton was founded. In 1951, Hugh Schilling, Sr. and three investors purchased the company and named it Horton Inc. Over the years, the company evolved into two distinct product lines - industrial products (including motion control and web control systems) and diesel vehicle components. In January 1999, Horton split into two separate companies. Hugh (Hutch) K. Schilling, Jr., who was president of Horton Inc., acquired the industrial products business. The headquarters for this business moved from Minneapolis to Vadnais Heights and was renamed Nexen Group in June 1999.

Products/Services
Nexen Group is a leading manufacturer of brakes, clutches, torque limiters, overload protection devices and control systems for a variety of industrial applications ranging from packing equipment to sawmills and automobile conveyor systems. The Air Champ® line of clutches and brakes is the industry standard for rotary motion control and power transmission. The company's extensive distribution network serves markets throughout the world with a product line of more than 2,500 components and systems for stop-start, disconnect and overload protection.

The Eclipse(TM) line of spring-applied brakes set new standards for strength and product design. Its servo motor brakes deliver so much torque they exceed the continuous stall torque of a servo motor. They confidently hold loads in all axes and during emergency-stop situations. These products offer safety and performance for virtually any AC, servo or linear motor.

Nexen also offers systems for guiding and tension control of roll material moving through a web production machine. Nexen web control systems ensure even flow of material and close-tolerance registration with maximum throughput. Applications range from printing of paper and cardboard for food and other packaging to the production of flexible circuit assemblies applied to polymer films.

Employees/Sales/Distribution
Nexen Group has 150 employees at its headquarters location in Vadnais Heights, Minn., and at its manufacturing facility in Webster, Wis. The company also has more 40 worldwide sales offices and more than 1,500 worldwide distributor sales outlets. The company has 120 U.S. and international patents.

For more information on Nexen and its products, visit us at www.nexengroup.com, or contact:

Bobbi J. Jensen
Marketing Communications
560 Oak Grove Parkway
Vadnais Heights, MN 55127
651/286-1054
bjensen@nexengroup.com

More from Mechanical Power Transmission