Web-Based Software provides enterprise access control.
Press Release Summary: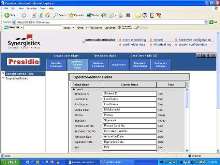 Requiring no locally installed software, Presidio is fully scalable and can be integrated with various access control system hardware controllers. Through 128SSL encryption, alarms and events are securely monitored in real-time via Internet/Intranet with alarm event information routed automatically to cell phones, pagers, and email. Programmable for up to 255 access levels, Presidio includes anti-passback capability and on-line help screens.
---
Original Press Release:

Web-Based "Presidio" is the Complete Enterprise Access Control Solution


Fully Scalable, Extremely Flexible and Highly Effective

Synergistics Inc., an innovator in providing complete access control systems through the use of advanced cardholder technology, announces Presidio, an advanced, multi-featured access control system. Completely web-based and requiring no locally installed software, Presidio has been designed as the ideal enterprise solution.

Fully scalable to meet any configuration, it can be completely integrated with various industry leading access control system hardware controllers. Through the use of 128SSL encryption, alarms and events can be securely monitored in real-time via the Internet/Intranet with alarm event information routed automatically to cell phones, pagers and email. Other standard features include: alarm prioritization, scheduled reports via email, anti-passback capability and online help screens.

Supported by intelligent modular controllers, Presidio downloads cardholder and other configuration information in order to determine access levels. Extremely flexible, Presidio is programmable for up to 255 different access levels and can control entry points and alarms from the front door to the elevators.

Built on a fully networkable, IP-addressable hardware platform, Presidio is accessible through TCP/IP via the Internet/Intranet/LAN or wireless connection. The software is available with an MSDE or MS SQL database.

About Synergistics
Incorporated in 1960, Synergistics, Inc., is a leading innovator and provider of complete access control systems through the use of advanced cardholder technology. Servicing industries and organizations that require varying levels of restricted entry, Synergistics is large enough to meet all access control needs, but flexible enough to offer customized solutions and service. For more information about Synergistics' complete line of access control systems: contact Synergistics, Inc. Nine Tech Circle, Natick, MA 01760; call 508-655-1340; visit www.synergisticsinc.com

More from Optics & Photonics