Weatherproof Boxes and Covers prevent water damage.
Press Release Summary: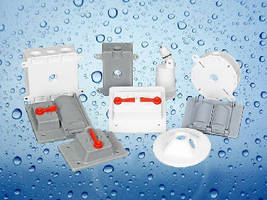 Featuring rugged PVC or polycarbonate construction, UL-listed marine-rated Boxes, Covers, and Lamp Holders are suited for corrosive or wet outdoor areas. Heavy-duty design ensures complete sealing protection with continuous box-to-cover compression and closed cell foam gasket that prevents dirt, dust, or moisture from entering and damaging electrical devices or wiring. Products are also resistant to heavy impact, mold, extreme heat, and low temperature distortion.
---
Original Press Release:

Prevent Water Damage to Electrical Systems with Appleton's New Weatherproof Boxes, Covers and Lamp Holders



ROSEMONT, IL, – Appleton has launched an expanded line of UL listed marine-rated boxes, covers and lamp holders featuring rugged PVC or polycarbonate construction. They are ideal for highly corrosive or wet outdoor areas, such as parking lots, marinas, docks and industrial sites. Their heavy-duty design ensures complete sealing protection with continuous box-to-cover compression and a closed cell foam gasket that prevents dirt, dust or moisture from entering and damaging electrical devices or wiring.



Appleton's expanded line provides electricians, general contractors, maintenance crews, and other professional trades with greater performance and versatility while installing branch circuit wiring, switches, receptacles, GFCIs or lighting in wet locations. In addition to sealing out moisture, they are resistant to heavy impact, mold, extreme heat and low temperature distortion. Contractors will appreciate how the smooth, accurately tapped hubs prevent wire abrasion, and how installation is made easier with formed in-place mounting lugs and the factory-installed sealing gasket. Locking swivel knuckles on the lamp holders enables positive lamp positioning and accurate directional aiming.



The box line is available as gray or white 1-gang, 2-gang, or round boxes with a wide variety of matching covers. Lamp holders are supplied with locknuts, porcelain sockets and internal gaskets for reliability and weather protection. Most of the boxes, covers and lamp holders are individually shrink wrapped, labeled and bar coded for ease of handling and identification.



For more information, visit www.appletonelec.com.



About Appleton Group

Appleton Group (www.appletongroup.com), a business unit of Emerson, provides electrical products for hazardous, industrial and commercial environments to serve a wide range of industries. With its global capabilities and trusted expertise, Appleton Group has led the industry for decades in durability, safety, and quality with signature brands Appleton®, O-Z/Gedney®, EasyHeat® and SolaHD™.



About Emerson

Emerson (NYSE: EMR), based in St. Louis, Missouri (USA), is a global leader in bringing technology and engineering together to provide innovative solutions for customers in industrial, commercial, and consumer markets around the world.  The company is comprised of five business segments: Process Management, Industrial Automation, Network Power, Climate Technologies, and Commercial & Residential Solutions.  Sales in fiscal 2014 were $22.3 billion.  For more information, visit Emerson.com.



Contact:

Mary Krauss

Emerson

T (800) 621-1506

mary.krauss@emerson.com



Dan O'Connell

O'Connell Communications

T (708) 482-0212

dan@oconnellpr.com







More from Laboratory and Research Supplies and Equipment