Sensors / Detectors / Transducers
Weather Stations utilize snow level sensor option.
Press Release Summary: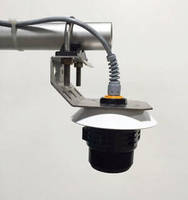 Available as option for Weather MicroServer which can be used with any CWS weather station model, Snow Level Sensor transmits ultrasonic pulsed sound wave through air to meet reflective object, such as snow. When sound wave makes contact with target, it bounces back toward sensor, which records time required for sound wave to travel to target and return. Using speed of sound, sensor calculates distance to object.
---
Original Press Release:

Snow Level Sensor Added Just in Time for Winter Weather



Just in time for winter preparations, Columbia Weather Systems has added a Snow Level Sensor options for their proprietary Weather MicroServer which can be used with any CWS weather station model. Added by customer request,the feature is used with an Orion Weather Station at a ski resort and with a Pulsar 600 Weather Station at a regional water district.



The snow level sensor transmits an ultrasonic pulsed sound wave through the air to meet a reflective object, such as snow. When the sound wave makes contact with the target it bounces back toward the sensor. The sensor records the time required for the sound wave to travel to the target and return. Using the speed of sound, the sensor calculates the distance to the object.



The Weather MicroServer offers internet-ready data and industrial protocols for monitoring weather in a range of applications. It offers additional sensor options to any CWS sensor model.



Columbia Weather Systems manufactures professional weather monitoring stations in the United States for use in industry and government applications worldwide. www.columbiaweather.com



Related