Wear-Resistant Capping Heads minimize downtime.
Press Release Summary: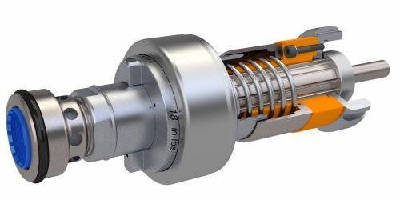 Utilizing hysteresis technology to provide continuous, contactless, impact-free torque, ROBA®-capping heads apply screw caps made of plastic with repetitive accuracy of ± 2%. Wear-resistant plastic/stainless steel linear guide, which is lubricated for lifetime of product, minimizes necessary servicing. With ROBA®-capping heads, limit torque can be continuously adjusted and can be read off directly via scale. Enclosed construction makes capping heads resistant to dirt and aggressive media.
---
Original Press Release:
Next-generation Capping Heads the New ROBA®-capping Head for Filling Plants - almost Wear and Maintenance-free
The rustproof ROBA®-capping head with their continuous, impact-free torque, apply screw caps made of plastic with a maximum of precision and repetitive accuracy. mayr® power transmission has now developed a new, extremely wear-resistant and almost maintenance-free generation of capping heads – for minimum downtimes and maximum plant availability.

Fig.: mayr® power transmission
The new, extremely wear-resistant ROBA®-capping head with plastic/stainless steel linear guide reduces service and maintenance costs to the absolute minimum.

We all know this problem – stubborn screw caps on plastic bottles are sometimes very hard to open or cannot be opened at all without using tools. To prevent this, the capping heads which apply these caps in the filling plants and which screw them shut to a defined torque must work precisely and with high repetitive accuracy. The rustproof ROBA®-capping head (hysteresis capping head) has long proven its worth in the beverages industry, as well as in the pharmaceutical and cosmetics industries. mayr® power transmission has now developed a new generation of these products, and perfected the already maintenance-friendly design of the capping heads. The new, extremely wear-resistant plastic/stainless steel linear guide, which is lubricated for the entire lifetime of the product, reduces necessary servicing and maintenance costs to an absolute minimum. A simple visual inspection once a year is sufficient. And even better: No manufacturer service personnel are required for the inspection, in contrast to other commercially available capping heads. On-site employees can carry out the inspection themselves, and the top part of the capping head can be easily and quickly dismantled without requiring tools. This ensures substantially reduced standstill times and therefore high plant availability and productivity.

Contactless hysteresis technology

With the ROBA®-capping head, the hysteresis technology not only provides contactless and therefore wear-free torque transmissions: It is also impact-free and low-vibration, and thus guarantees a longer plant lifetime. The capping heads also feature a high torque repetitive accuracy of +/- 2%. With their continuous and impact-free closing torque, they are therefore the optimum choice for the application of plastic screw caps with preformed threads. They are better suited for the task than permanent magnet couplings with intermittent torque in slip operation, which in part "hammer down" the screw caps and make them hard to open. With the ROBA®-capping head, the limit torque can be easily and continuously adjusted, and can be read off directly via a scale. The enclosed construction also makes the capping heads resistant to dirt and aggressive media. It is possible to adapt the head pressure easily according to the customer requirements.

Fig.: mayr® power transmission
ROBA®-capping head in a filling plant for drinking yoghurts. Due to the continuous, impact-free slip torque, these capping heads are more suitable for plastic bottles than the permanent magnet capping heads.

Mayr Corporation
4 North Street
USA-Waldwick
NJ 07463
DUERR George
Phone : +1/201-4457210
Fax : +1/201-4458019
info@mayrcorp.com / duerr@mayrcorp.com

Chr. Mayr GmbH + Co. KG
Eichenstraße 1
87665 Mauerstetten, Germany
BESTLE Hermann
Phone : +49 8341 / 804-232
Fax : +49 8341 / 804-49232
hermann.bestle@mayr.de
Contact This Company Download Spec Sheet
More from Non-Industrial Products