WDS X-Ray Spectrometer makes nanoanalysis possible.
Press Release Summary: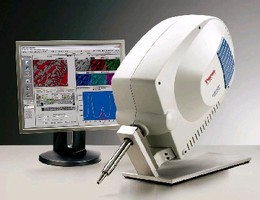 Integrated with EDS NORAN System 7 software, MagnaRay(TM) Wave Dispersive X-ray Spectrometer (WDS) combines energy dispersive spectroscopy (EDS) results with wavelength dispersive spectrometer operations. Unit determines elements to be analyzed simultaneous to EDS collecting data. Combination of NORAN System 7 with MagnaRay optimizes EDS/WDS qualitative, quantitative, and X-ray imaging capabilities.
---
Original Press Release:

Thermo Fisher Scientific Launches MagnaRay Spectrometer Creating the First Completely Integrated EDS/WDS System



ALBUQUERQUE, NM, (August 4, 2008) - Thermo Fisher Scientific Inc., the world leader in serving science, today announced the launch of the first intelligent Wavelength Dispersive X-ray spectrometer (WDS), the Thermo Scientific MagnaRay(TM) WDS Spectrometer. The instrument automatically combines energy dispersive spectroscopy (EDS) results with WDS operations using the embedded expert system. Integrated with the Thermo Scientific EDS NORAN System 7, the MagnaRay determines the elements to be analyzed simultaneous to the EDS collecting the data, providing unparalleled microanalysis results with confidence and accuracy. The MagnaRay WDS Spectrometer will be showcased at the Thermo Scientific booth #834 at the Microscopy & Microanalysis 2008 conference, August 3-7 in Albuquerque.

Building on the ten year history of Thermo Fisher Scientific's MAXray WDS spectrometer, the new MagnaRay combines the benefits of EDS and WDS to help identify elements in a sample as well as their quantitative value. Seamless integration with the NORAN System 7 software means that EDS operators are already trained for WDS analyses. The benefits associated with NORAN System 7 are enhanced when combined with the MagnaRay spectrometer, offering exceptional EDS/WDS qualitative, quantitative and x-ray imaging capabilities.

The innovative design makes nanoanalysis a possibility for the first time, easily operating at lower voltages than traditional WDS. "Intensities of low energy x-rays can be 10 to 100 times higher than traditional WDS technologies enabling the MagnaRay to provide unmatched levels of application performance thanks to low-voltage and low beam current operating conditions," explains David Rohde, microanalysis manager, Thermo Fisher Scientific. "The design of the spectrometer widens the application base allowing it to be easily used on SEM and FESEM."

For more information about the Thermo Scientific MagnaRay WDS, please call +1 800-532-4752, email analyze@thermofisher.com or alternatively please visit www.thermo.com/microanalysis

Thermo Scientific is part of Thermo Fisher Scientific, the world leader in serving science.

About Thermo Fisher Scientific

Thermo Fisher Scientific Inc. (NYSE: TMO) is the world leader in serving science, enabling our customers to make the world healthier, cleaner and safer. With annual revenues of $10 billion, we have more than 30,000 employees and serve over 350,000 customers within pharmaceutical and biotech companies, hospitals and clinical diagnostic labs, universities, research institutions and government agencies, as well as environmental and industrial process control settings. Serving customers through two premier brands, Thermo Scientific and Fisher Scientific, we help solve analytical challenges from routine testing to complex research and discovery. Thermo Scientific offers customers a complete range of high-end analytical instruments as well as laboratory equipment, software, services, consumables and reagents to enable integrated laboratory workflow solutions. Fisher Scientific provides a complete portfolio of laboratory equipment, chemicals, supplies and services used in healthcare, scientific research, safety and education. Together, we offer the most convenient purchasing options to customers and continuously advance our technologies to accelerate the pace of scientific discovery, enhance value for customers and fuel growth for shareholders and employees alike. Visit www.thermofisher.com.

More from Electronic Components & Devices