WaveStar® TFA Static Transfer Switch comes with redundant fans.
Press Release Summary: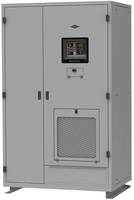 WaveStar® TFA Static Transfer Switch offers front access for installation, service and IR scanning. Unit features switches, controls and power semiconductors and provides integrated cable pathway between STS and power distribution unit. Product is equipped with cable path for top and bottom entry or exit. Transfer switch comes in optimized footprint and is suitable for data center facility manager applications.
---
Original Press Release:
Power Distribution, Inc. Creates Market's First, True Front Access Static Transfer Switch Cabinet
New Design Promotes Data Center Power Maintenance Worker Safety
Power Distribution, Inc. (PDI), leading supplier of power distribution and monitoring solutions for data centers, today announced its new WaveStar® TFA Static Transfer Switch (STS). Available in Q4 2017, the company's innovation is the industry's only true front access STS cabinet, offering an improved footprint, faster installation and increased worker safety during data center power maintenance procedures.
Static Transfer Switches (STS) facilitate uninterrupted power to a data center's electrical load, overcoming the unreliability of conventional electrical distribution systems by switching to a redundant power path in the event of a failure. Legacy STS designs present a maintenance safety dilemma as live electrical components, which may need servicing are not separated from other areas. Too often electrical arcs cause device damage, unplanned downtime or worse, endanger a worker's safety. PDI has redesigned legacy STS devices by separating live electrical components into individual compartments, optimizing routine maintenance and simplifying installation and infrared scanning. The net result is a reduced Total Cost of Ownership (TCO) and improved reliability and availability.
"Providing a consistent power flow to IT equipment is crucial to maintaining uninterrupted data center operations, and for 23 years PDI has provided industry leading Static Transfer Switches in support of that goal," said Evan Owen, Global Product Manager, Power Distribution, Inc. "PDI's new WaveStar TFA STS retains the benefits of our previous generation static switch wrapped in an innovative enclosure that simplifies installation, and helps mitigate the risk of injury while providing data center facility managers a more convenient and safe method to perform routine maintenance."
Unique benefits of the WaveStar TFA Static Transfer Switch include:
True Front Access – Front access for installation, service, maintenance and IR scanning.
Compartmentalized Components – Molded case switches, controls, power semiconductors, primary and redundant fans -- all contained in separate compartments.
Optimized Top/Bottom Entry Exit – Molded case switch compartment is flipped for preference with a cable path for blended top and bottom entry/exit.
Optimized Footprint – Front access allows for side-by-side deployment - eliminating side access.
Enhanced Primary Systems Connectivity – Integrated cable pathway between STS & power distribution unit (PDU).
Optimized Cooling – Air cool controls components and power semiconductors via integrated path.
To empower your mission critical facility with the market's best power solutions, drop by the PDI Booth at 7x24 Exchange Fall Conference in Phoenix, AZ, October 15-18, or contact PDI at +1-804-737-9880 or email info@pdicorp.com.
About Power Distribution, Inc. (PDI)
Founded in 1978, PDI is the leading supplier of power distribution and monitoring solutions for data centers, as well as other critical or high-value electrical systems. With operating facilities in Virginia and California, we employ more than 400 skilled individuals throughout the U.S. The PDI brand is renowned for offering innovative data center equipment and services and our ONYX brand, well known for offering magnetics to serve the industrial market. For more information, please visit www.pdicorp.com.
More from Software