Waveform Generator serves low frequency testing applications.
Press Release Summary: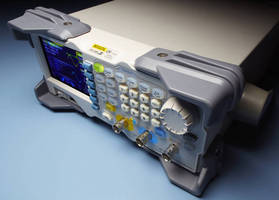 Powered by SiFi technology, 2-channel DG1000Z series has memory depth of 8 Mpts (16 Mpts optional) that facilitates deep, intricate arbitrary waveforms. Up to 160 built-in waveforms facilitate and accelerate access to more predefined signals. Providing ±1 ppm frequency stability and -125 dBc/Hz phase noise, series includes 30 MHz DG1032Z and 60 MHz DG1062Z which offer range of modulations, up to 200 MSPS sample rate, and 14-bit vertical resolution.
---
Original Press Release:

Rigol Extends Portfolio with New Waveform Generator



Delivers High Signal Fidelity and Deep Memory at Unprecedented Pricing



Oakwood Village, OH – Rigol Technologies, Inc. introduces the DG1000Z series Waveform Generators, adding to its extensive portfolio of feature rich test and measurement equipment. Powered by Rigol's innovative SiFi technology, the DG1000Z is ideal for low frequency testing applications requiring high signal fidelity, low noise floor and long arbitrary waveform length.



The 2 channel DG1000Z series features Best-In-Class memory depth of 8Mpts (16 Mpts. optional) to facilitate deeper, more intricate arbitrary waveforms and includes up to 160 built-in waveforms for quick and easy access to more predefined signals. These generators provide +/-1ppm frequency stability and -125dBc/Hz phase noise for high signal fidelity and low noise, predictable signal generation.



The DG1000Z series delivers up to 200 MSa/s sample rate and 14 bits vertical resolution allowing users to achieve fine resolution and signal detail while emulating small voltage changes on a large output range. Available in two models, DG1032Z (30MHz) and DG1062Z (60MHz), these generators offer a wide range of modulations including AM, FM, PM, ASK, FSK, PSK and PWM.



"Rigol Technologies is very excited about adding the DG1000Z Waveform Generator to our broad portfolio of test and measurement products," commented Robert Bluhm, Vice President, North Americas. "With its advanced specifications, feature set and uncompromised performance we are confident that it will delight our customers. When combined with the DG1000Z price points of $680 (30MHz) and $860 (60MHz) it delivers unprecedented value and will help our customers lower their overall cost of test."



Rigol's DG1000Z series offers a complete feature set with a starting price of $680, delivering a 70% price advantage versus comparative models from Tektronix and Agilent. The combination of uncompromised performance and unprecedented value makes the DG1000Z an ideal choice for engineers, technicians and educators.



About Rigol Technologies:

Rigol Technologies, Inc, an ISO9001:2000 Quality Management System and ISO14001:2004 Environmental Management System Certified company, is one of the worldwide leaders in test and measurement instrumentation. Rigol's premium line of products includes Digital and Mixed Signal Oscilloscopes, RF Spectrum Analyzers, Digital Multimeters, Function/Arbitrary Waveform Generators, Digital Programmable Power Supplies, and RF Signal Generators. With their US Headquarters just outside of Cleveland, OH and their European Headquarters in Munich, Germany, Rigol offers products and services in over 60 countries/regions on six continents, with more than 150 distributors and representatives.



For more information, contact:



Michael Rizzo

Director, Marketing and Strategy

7401 First Place, Suite N

Oakwood Village, OH 44146

(PH) 440-232-4488 x123

e-mail: michael_rizzo@rigol.com



www.Rigolna.com



-or-



Tim Glass

Altman-Hall Associates

235 W. 7th Street

Erie, PA 16501

(PH) 814-454-0158



www.Altman-Hall.com