Wave Springs offer compact load-bearing solution.
Press Release Summary: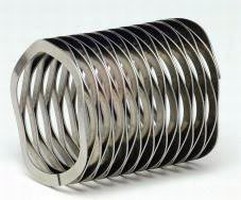 REDUX Wave Springs are manufactured from single strand of Type 17-7 PH stainless steel flat wire formed in continuous precise coil with uniform diameters and waves. They are available for hole diameters from .375-1.25 in. to meet load requirement from 4-30 lb. Custom designs in variety of materials are also offered.
---
Original Press Release:
Lee Spring Introduces REDUX Wave Springs
Brooklyn NY... Customers have asked Lee Spring to expand our Stock Compression Spring offering to include designs that will fit into smaller assemblies while meeting all other performance criteria. Lee's solution is their new REDUX Wave Springs, which can replace conventional round wire Compression Springs in applications requiring a tight load deflection specification in a space critical environment. Typically, REDUX Wave Springs occupy a very small area relative to the amount of work they can perform. In fact, Lee's REDUX Wave springs can reduce the size and weight of the assembly by as much as 50% compared to comparable round wire compression springs. The 2008 edition of the Lee Spring Catalog offers over 16,000 Stock Springs. Each REDUX Wave Spring is manufactured from a single strand of Type 17-7 PH Stainless Steel flat wire formed in a continuous precise coil with uniform diameters and waves. Lee is offering Stock designs to fit hole diameters from .375" (9.52 mm) to 1.25" (31.75 mm) to meet load requirement from 4 lbs (1.8 kg) to 30 lbs (13.6 kg). Custom designs in a variety of materials are offered through submission of an RFQ to sales@leespring.com, by fax to 888.426.6655, or by calling 888 SPRINGS. For further information on Lee's Stock line of REDUX Wave Springs or to order a catalog, visit their website at www.leespring.com, call 888 SPRINGS, or email Marketing@leespring.com. Founded in Brooklyn NY in 1918, Lee Spring is celebrating its 90th Anniversary in the United States, its 30th Anniversary in the United Kingdom and its 5th Anniversary in Mexico. In 2008, they welcome the latest addition in their global expansion with the opening of the Lee Spring China Shanghai Sales office. Lee Spring is a manufacturer of stock and custom mechanical wire springs, servicing diverse manufacturing markets in the United States and throughout the world. They have seven ISO 9001:2000 Certified locations in the United States, Mexico and the United Kingdom, as well as sales and manufacturing operations in China. Lee Spring publishes an extensive print and online catalog featuring over 16,000 Stock Springs. All Lee Spring Stock Products meets RoHS specifications, enabling manufacturers to sell their products into the European Union while meeting environmental regulations. Lee also offers extensive custom services for the production of Springs, Wire Forms, Washers, Stampings, Four Slide Parts and Assemblies.
More from Communication Systems & Equipment