Watts Announces Availability of Pure Water Filtration Systems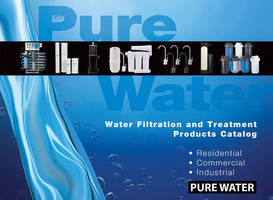 Industry Leader Offers Simple, Streamlined Water Filtration & Treatment Line

North Andover, MA - Watts today announced the general availability of Pure Water, a complete line of water filtration and treatment products. Unlike some competitive solutions, which feature proprietary technologies and a steep learning curve, Pure Water features a clearly defined, understandable product line with industry-standard components. Previously only available in limited distribution, the Pure Water line features solutions for bringing safe, cost-effective, better-than bottled water to commercial environments.

The new Pure Water product line is selected with commercial engineers in mind, and is comprised of a wide range of products that solve water filtration, purification and treatment issues for light commercial and institutional applications. Pure Water includes Sediment Filter Systems with 2.8 times the sediment holding capacity of sand-type media; Carbon Filter Systems with flow rates up to 129 gpm; Reverse Osmosis Systems (RO) with production rates up to 100 gpm; water softeners and environmentally friendly Anti-Scale Systems.

As with all Watts products, the Pure Water product line is made from the most durable and reliable components the industry has to offer. For more information, please visit www.watts.com/purewater.

About Watts: Watts is part of the Watts Water Technologies family, with operations in North America, Europe, Middle East, Africa and Asia. Watts designs, manufactures and sells an extensive line of flow control products for the water quality, residential plumbing & heating, commercial and OEM markets. Visit www.watts.com for more information.

About Watts Water Technologies, Inc:
Watts Water Technologies, Inc. is a world leader in the manufacture of innovative products to control the efficiency, safety and quality of water within residential, commercial and institutional applications. The company's expertise in a wide variety of water technologies enables it to be a comprehensive supplier to the water industry. Watts Water's various brand products center around four key application areas, referred to as our strategic business platforms: Commercial & Residential Flow, Water Reuse & Drainage, HVAC & Gas, and Water Quality. Visit www.wattswater.com for more information.

More from Electronic Components & Devices