Watt-Flex ® Cartridge Heaters Warranted Removable from Bores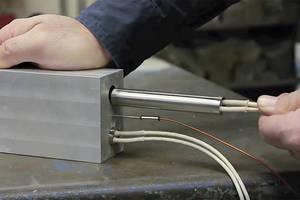 IPSWICH, MA - Watt-Flex® Cartridge Heaters are warranted removable from bores by their manufacturer, Dalton Electric Heating Co., Inc. Because their unique split-sheath design prevents warping, the primary cause of bore seizure for conventional cartridge heaters, Watt-Flex® Heaters are the only cartridge heaters warranted removable from bores. If removal by drillout from a properly sized bore is necessary, Dalton Electric will replace any damaged heaters free of charge.
Split-sheath construction allows the Watt-Flex® Heater to expand bilaterally when energized for maximum metal-to-metal contact with the bore and maximized heat transfer (conduction) to the surrounding metal, providing maximum energy efficiency. Because of their continuous coil construction, Watt-Flex® Heaters have no sections to burn out and cause warping of the heaters in the bore. Instead they provide a uniform temperature profile along the entire sheath.
Watt-Flex® Heaters also have no ceramic cores. This, along with proprietary manufacturing techniques, allows compaction of the high-grade magnesium oxide to near maximum density around the heater coil for greater dielectric strength, warrantable watt densities up to 50% higher than those of conventional heaters, and greater heat transfer away from the coil. Cooler internal operation results in up to 5 times longer life than conventional heaters.
And when de-energized, Watt-Flex® Heaters contract uniformly for easy removal from the bore, eliminating bore seizure, drillout of the heater, damage to the bore, platen repair costs, replacement heater costs, maintenance labor costs, and downtime costs.
To view a video on how Watt-Flex® Heaters reduce the overall cost of process heating, visit www.daltonelectric.com
For more information, contact Eli Whitney, President, Dalton Electric Heating Co., Inc.,
28 Hayward Street,
Ipswich, Massachusetts 01938,
TEL: (978) 356-9844,
FAX: (978) 356-9846,
e-mail: sales@daltonelectric.com,
More from Material Processing