Water Treatment System uses reverse osmosis technology.
Press Release Summary: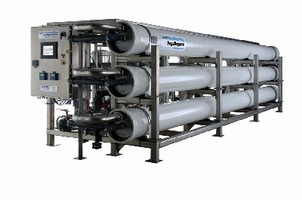 Available in 4 configurations with nominal flow capacity ranging from 0.5-2.0 million gallons/day, MegaMagnum® utilizes 18 in. diameter spiral-wound reverse osmosis elements, each containing 2,800 sq ft of membrane surface area. Standard pre-engineered package includes flowmeters, pressure transmitters, conductivity meter, variable frequency drive, and HMI with touch screen, data trending, and Ethernet access. System is mounted on 1 or 2 skids, depending on size.
---
Original Press Release:

Koch Membrane Systems Announces The Megamagnum Water Treatment System



Unprecedented Capacity within a Compact Package

Wilmington, MA - Koch Membrane Systems, Inc. (KMS), a world-class developer and manufacturer of innovative membranes and membrane filtration systems, announces the MegaMagnum® Water Treatment System. The pre-engineered, packaged system utilizes 18" diameter MegaMagnum membrane elements, the world's largest spiral-wound reverse osmosis elements, to significantly reduce the cost, footprint and installation time of municipal and industrial water treatment systems.

MegaMagnum systems require only half of the floor space compared to a rack with 8" membrane elements. A single 18"x 61" MegaMagnum spiral element contains 2,800 square feet of membrane surface area, compared to 400 square feet in commonly deployed 8"x 40" products. The MegaMagnum system utilizes one-seventh the number of elements to produce the same water quantity and quality at the same fouling rate as standard 8"elements operating at similar fluxes and pressures. This gives an 80 percent reduction in the required number of connections and O-rings, thereby increasing reliability and further reducing costs.

The pre-engineered packaged systems enable fast installation and start-up. These systems are available in four configurations, with nominal flow capacity ranging from 0.5 to 2.0 million gallons per day. To facilitate shipment and installation, the systems are mounted on one or two skids, depending on the system size. KMS has also developed a special system for easy loading and unloading of the large elements.

The standard package includes flowmeters, pressure transmitters, a conductivity meter, a variable frequency drive and a human machine interface with touch screen, data trending and Ethernet access. Optional equipment includes systems for antiscalant dosing, acid dosing, chlorine monitoring and clean-in-place.

MegaMagnum Water Treatment Systems provide an ideal solution for a variety of large-scale industrial and municipal reverse osmosis and nanofiltration applications, such as brackish water desalination, removal of inorganic contaminates (e.g. nitrates, arsenic and radium), softening, organic removal, water reuse, high-quality process water production and wastewater recycling.

About Koch Membrane Systems
Koch Membrane Systems, Inc. has been a global leader in separation and filtration products for more than 30 years. A designer and manufacturer of state-of-the-art membrane cartridges and elements, as well as complete membrane systems, KMS products are specified for the most demanding applications. To enhance membrane performance, KMS offers a line of antiscalants and cleaning chemicals, and provides a wide range of maintenance and technical service programs. The company has supplied membranes for more than 15,000 systems installed around the world, serving the food processing, life sciences, and general manufacturing industries, as well as providing potable water and wastewater treatment technologies for communities of all sizes.

Based in Wilmington, Massachusetts, Koch Membrane Systems is a Koch Chemical Technology Group, LLC company. For more information on Koch Membrane Systems and its full line of membranes and accessory products, visit www.kochmembrane.com, call 1-978-694-7000 or write to info@kochmembrane.com.

MegaMagnum® is a registered trademark of Koch Membrane Systems, Inc.

More from Sensors, Monitors & Transducers