Water Source Heat Pump features modular, take-apart design.
Press Release Summary: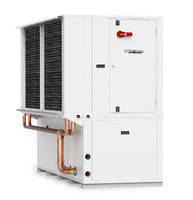 Offering efficiencies that exceed ASHRAE 90.1 standards, 30-Ton Envision® is suited for large zones in commercial and institutional applications. Constructed of heavy gauge galvanized steel, system features VFD with LCD, two Danfoss scroll compressors, permanently lubricated blower motor with thermal overload protection, and Aurora microprocessor controls. With copper inner tube and steel outer tube, coaxial heat exchangers allow for max heat transfer at normal and low water flow rates.
---
Original Press Release:

WaterFurnace Introduces Envision® 30-Ton Water Source Heat Pump



Fort Wayne, IN – WaterFurnace International, Inc., the leading manufacturer of geothermal and water source heat pumps, introduces the Envision® 30-Ton water source heat pump, offering efficiencies that exceed ASHRAE 90.1 standards.



"The Envision 30-Ton water source heat pump is another great addition to WaterFurnace's growing portfolio of commercial solutions," said Tim Litton, director of marketing communications, WaterFurnace International, Inc. "This unit is the perfect choice for large zones in commercial and institutional applications."



Featuring a modular, take-apart design, the 30-ton unit can be moved into a building in two different sections, providing a reduced weight, smaller footprint and improved maneuverability. Each piece fits perfectly in freight elevators and through doorways for an unmatched level of convenience. When the unit is ready for installation, the sections can be easily rejoined.



The unit's new features also include a variable frequency drive (VFD) with an LCD display, which allows for modifying blower speeds without manual pulley adjustments. Other features include:




Two high-efficiency Danfoss scroll compressors



Coaxial heat exchangers with copper inner tube and steel outer tube that allow for maximum heat transfer at normal and low water flow rates



Blower motor that is permanently lubricated with thermal overload protection



Aurora microprocessor controls



Two sealed circuits for R-410A refrigerant



Dual aluminum air coils that provide exceptional durability and high efficiencies



Additional factory-installed features include hot gas reheat, internal two-way valves and a waterside economizer that circulates water already in the system to provide heating and cooling for the building. The cabinet is constructed of heavy gauge environmentally responsible galvanized steel for maximum corrosion resistance. It features multiple knockouts and access panels for ease of service.



To learn more, visit the WaterFurnace website at www.waterfurnace.com.



More Information:

WaterFurnace International, Inc. is a leading manufacturer of residential, commercial, industrial and institutional geothermal and water source heat pumps. Although it earned a reputation as a leader in geothermal heat pumps, WaterFurnace has worked in recent years to innovate new technologies, integrate key trends and grow the core business to represent a portfolio of clean and sustainable solutions. WaterFurnace was founded in 1983, and the company is headquartered in Fort Wayne, Ind.



For the latest news and updates from WaterFurnace, connect with us on your favorite social media sites – follow us on Twitter (@WaterFurnace), like us on Facebook or view the WaterFurnace YouTube Channel. Additional information about the Company and its products is available at www.waterfurnace.com.



Related links:

WaterFurnace - http://www.waterfurnace.com/

geothermal - http://www.waterfurnace.com/geo_energy.aspx 

heat pumps - http://www.waterfurnace.com/geothermal-heat-pumps.aspx

Envision 30-Ton - http://www.waterfurnace.com/products.aspx?pl=60&prd=Envision30Ton

More from Chemicals & Gases