Water-Soluble Oil is formulated for aluminum.
Press Release Summary: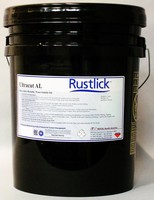 Used to prevent staining during machining process, Rustlick Ultracut AL creates light oil barrier that protects working part and machine from rust. It contains non-chlorinated EP additives as well as boundary lubricants and helps prolong sump life. Product can be used with all metals, including ferrous, non-ferrous, brass, bronze, and copper, but is not recommended for use on magnesium. Biostability makes it resistant to bacteria and fungus.
---
Original Press Release:

NEW! Rustlick Ultracut AL Water-Soluble Oil Specifically Designed for Aluminum



Glenview, IL - April 21, 2008 - Rustlick Ultracut AL is a high-performance water-soluble oil specifically formulated for aluminum to prevent staining during the machining process. It can be used with all metals, including ferrous, non-ferrous, brass, bronze, and copper; though it is not recommended for use on magnesium.

The biostability of Rustlick Ultracut AL makes it highly resistant to bacteria and fungus and with proper maintenance it can significantly prolong sump life. Rustlick Ultracut AL contains non-chlorinated EP additives as well as boundary lubricants and creates a light oil barrier that protects the working part and the machine from rust. Rustlick Ultracut AL is also great for environments with hard water problems since it provides strong emulsion stability.

Rustlick Ultracut AL is available in 5 or 55 gallon containers. It is a light brown viscous fluid in its concentrated form. It can be diluted 10:1 to 40:1 depending on the application.

ITW ROCOL® North America designs and manufactures a full line of coolants and lubricants for the metal working industry including the Rustlick product line of machining fluids, EDM fluids, and corrosion control and sump maintenance systems.

Emily Gibbons
Marketing Coordinator
ITW ROCOL North America
Accu-Lube Rustlick SafeTap Daraclean Metal Mates Cedar Lubricants
3624 West Lake Avenue, Glenview, IL 60026
Office: 847-657-5343
FAX: 800-952-5823
egibbons@rocolnorthamerica.com
www.rocolnorthamerica.com

More from Communication Systems & Equipment