Water, Ozone Cleaning System is green, safe, and effective.
Press Release Summary: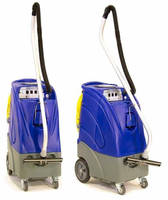 Combining plain tap water and ozone gas, Aqueous Ozone provides on-site/on-demand, no-rinse solution for cleaning surfaces and removing odors. This all-natural cleaner can be used wherever and whenever needed, does not leave any chemical residue on surfaces, and helps reduce or eliminate use of harsh cleaning chemicals. When sprayed onto surface, product targets soils, germs, and other contaminants; attaches to and eliminates them; and converts back to oxygen and water.
---
Original Press Release:
Green, Safe, and Cuts Cleaning Costs
CleanCore Technologies, manufacturer of aqueous ozone cleaning systems, has developed a green, safe, and highly effective cleaning system perfect for almost all cleaning tasks.

Aqueous Ozone is a natural, on site/on demand cleaner that can be used wherever and whenever needed. It helps reduce if not eliminate the use of harsh cleaning chemicals.

Using CleanCore's aqueous ozone cleaning systems leaves no chemical residue on surfaces, which often results in rapid re-soiling.

And one more thing: CleanCore's aqueous ozone cleaning systems helps reduce cleaning costs.

For more information, visit cleancoretech.com or email inquiry@cleancoretech.com.

About CleanCore™ Technologies
CleanCore™ is an innovative cleaning technology that infuses cold water with ozone gas to create aqueous ozone, a natural and robust cleaning solution. Along with being effective, ozonated water is viewed as a more "natural" cleaning agent because ozone is naturally found in the atmosphere. This form of no-chemical cleaning is often referred to as "greener than green cleaning" because there is essentially no impact on the environment when cleaning with a CleanCore system.

Contact Information:
Matt Montag
CleanCore Technologies Sales Manager
13714 A Street
Omaha, NE 68144
877-860-3030
inquiry@cleancoretech.com
Related