Water Generation Systems target pharmaceutical industry.
Press Release Summary: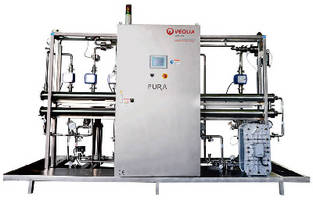 Designed to sanitize water at 185°F, PURA Systems provide purified water for flow rates up to 26 gpm. Pre-validated systems include multi-purpose tank, reverse osmosis unit, polishing treatment with continuous electro deionization, and control panel. Start/stop mode saves water, while continuous mode maximizes bacteria count control. With hygienic design and 316L stainless steel construction, systems are fully compliant with GAMP, ISPE, cGMP, and FDA requirements.
---
Original Press Release:

PURA Sets a New Standard That Fits Emerging Market Needs



Veolia Water Solutions & Technologies launches PURA pre-validated pharmaceutical water generation systems

Paris, - Veolia Water Solutions & Technologies, leading supplier of standard pharmaceutical world-known water systems, such as QUATTRO®, ORION® and POLARIS, today launches PURA, premium engineered standardised system with the safest sanitisation method.

Until now, purified water generation with hot water sanitisation was synonymous with a very substantial investment for the client. PURA is the first-class standardised treatment system that fits your investment constraints. PURA meets especially the emerging countries needs and the pharmaceutical, cosmetics & veterinary industries where price competitiveness and system's quality are the premium decision criteria.

PURA is a range of standard, packaged, pre-validated generation systems for Purified Water for flow rates up to 6m3/h (26 USgpm). Each package is completed with a multi-purpose tank, Reverse Osmosis unit (RO), a polishing treatment with continuous electro deionisation (CEDI) and control panel. The hygienic design and fabrication in 316L stainless steel are fully compliant with GAMP, ISPE, cGMP and FDA requirements.

PURA offers the safest and the most recognised choice of sanitisation method using hot water at 85°C/185°F. The hot water sanitisation cycle from the multi-purpose tank to the CEDI is fully automatic at 85°C/185°F with no damage or performance loss on the RO and CEDI modules for hundreds of cycles. The control panel interface allows the user to operate the unit in either start/stop mode for saving water or continuous running for maximizing bacteria count control.

Every PURA is supplied with a full validation pack, including Functional Design Specification, Design Qualification, Installation Qualification and Factory Acceptance Test documentation. PURA is also available with optional 21 CFR Part 11 compliance.

Veolia Water Solutions & Technologies (VWS), subsidiary of Veolia Water, is a leading design & build company and a specialized provider of technological solutions in water treatment. With over 9,500 employees in 57 countries, Veolia Water Solutions & Technologies recorded revenue of Euros2.5 billion Euros in 2009.

Veolia Water, the water division of Veolia Environnement, is the world leader in water and wastewater services. Specialized in outsourcing services for municipal authorities, as well as industrial and service companies, Veolia Water provides water service to 95 million people and wastewater service to 66 million. With 95,789 employees in 66 countries, its 2009 revenue amounted to Euros12.5 billion.

www.veoliawaterst.com

www.pharma.veoliawaterst.com

Contacts:

Johann Bonnet

Market Manager - Pharmaceutical

Veolia Water Solutions & Technologies, L'Aquarène, 1 place Montgolfier, 94417 - Saint Maurice, France

Email: pharma-info@veoliawater.com

Web: www.pharma.veoliawaterst.com

More from Sensors, Monitors & Transducers