Water Filtration Systems feature plug-and-play design.
Press Release Summary: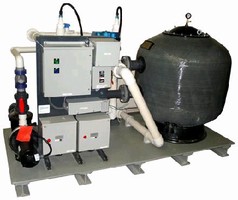 Pre-wired and pre-plumbed with quick disconnects, skid-mounted Life-Support Filtration Systems incorporate UV sterilizers that disinfect water-borne pathogens, bacteria, fungi, and algae without leaving any residual toxins. Designed for flow rates from 25-250 gpm, filters employ PermaBead technology as alternative to sand for removal of solid debris. Plastic filtration media is non-clogging, non-channeling, and never needs to be replaced.
---
Original Press Release:

New Skid-Mounted, Plug & Play Life-Support Filtration Systems Simplify Filtration



Bellingham, WA - Driven by the demand for affordable, highly customized water filtration systems, Integrated Aqua Systems Inc. has introduced Life-Support (LS) Filtration Systems. These systems are complete Plug & Play filtration systems designed to provide clean and clear water offering biosecurity to a variety of aquatic systems.

LS systems incorporate efficient solid filtration with powerful UV disinfection designed for the following market applications:
o Display Ponds & Water Features
o Commercial Water re-use
o Aquatic Research
o Commercial Aquaculture
o Public Aquariums
o Zoos

The new LS systems are complete, pre-assembled filtration units designed and built to fit on compact and mobile skids. Pre-wired and pre-plumbed with quick disconnects makes this system a convenient Plug & Play unit which simplifies system changes, expansion, and relocation while minimizing installation costs and repair hassles.

Standard LS Filtration Systems are designed for flow rates between 25-250 GPM. Larger units available upon request.

LS system sand filters employ the use of PermaBead technology as a superior alternative to sand for removal of solid debris. Permabeads are a plastic filtration media which, unlike sand, are efficient, non-clogging, non-channeling, and never need to be replaced.

In addition to solid particle filtration, ultraviolet sterilizers disinfect water providing crystal clear, disease free water. UV Sterilization is a proven and effective method of disinfecting water-borne pathogens, bacteria, fungi, and algae without leaving any residual toxins.

Automation and Control options allow optimized user control and minimal maintenance labor.

o Variable Frequency Drives allow users to precisely control flow rate, extend pump working life and lower electrical costs.
o Automatic Backwash options for sand filters utilize pressure and time activated controls to virtually eliminate maintenance and labor costs.
o Safety Features are built-in to every system to prevent UV burnout and power outages with alarm output capability.
o Quick Change-Out plumbing and wiring minimizes downtime in case of pump failure.

LS Filtration Systems are available in standard pre-engineered units or can be highly customized to fit specific needs. To meet water quality objectives additional water treatment equipment can be incorporated including: chillers, heaters, bio-filters, degassing systems, ozone generators, protein fractionators, water quality monitoring, and controls.

For a Free design consultation contact Integrated Aqua Systems Inc.
Tel: 360.933.4353 Fax: 360.933.4354
Email: info@integrated-aqua.com

Further information available at www.integrated-aqua.com

More from Test & Measurement