Wastewater Screenings Washer offers triple zone spray wash.
Press Release Summary: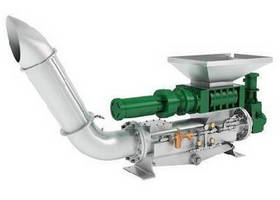 Featuring low-profile tank design, self-contained, hopper-fed Monster® SWM-XE grinds, washes, compacts, and dewaters debris captured by wastewater screen. Smart Controller(TM) has 3 operational stages and system automatically selects optimum stage for proper level of solids washing. Breaking up clumps of debris, Muffin Monster® dual-shafted grinder preconditions solids entering washer compactor, while triple zone spray system eliminates fecal matter and minimizes foul odors.
---
Original Press Release:

JWCE's Screenings Washer Monster Just Got Tougher



Screenings Washer Monster SWM-XE

The redesigned Screenings Washer Monster® features a new automated control system, a low profile tank design and triple zone spray wash to produce the cleanest screenings discharge in the industry. The new SWM-XE is a patented, self-contained, hopper-fed system used to effectively grind, wash, compact and dewater debris captured by a wastewater screen. It is available as part of our Monster Separation System® fine screens or for installation behind a current screen(s).

The patented Smart Controller(TM) has three operational stages and the system automatically selects the optimum stage to provide for the proper level of solids washing.

"The Smart Controller acts like your own personal JWC engineer right there on the site," said Rob Sabol, Director of R&D. "Continually making adjustments based on incoming content and flow allows the SWM to produce the best quality discharge."
Discharged screenings are cleaner, drier and less expensive to dispose of at landfills.
The new low profile tank design is large enough to deal with heavy solids loading and has separate zones for inlet, washing and dewatering. Two inspection ports allow operators to inspect the tank. The low height allows the SWM-XE to fit into challenging installations.

The SWM-XE also uses a triple zone spray system to eliminate fecal matter and reduce foul odors. An initial spray zone in the hopper washes incoming solids into the grinder. The second zone is located between the grinder and auger. This patented use of wash water after grinding is what removes fecal matter and provides homogenous, dry discharge. The third wash zone is located under the screen and ensures it remains clear.

A Muffin Monster® (or Macho Monster) dual-shafted grinder preconditions solids entering the washer compactor, breaking up clumps of debris and rags so more surface area is exposed to the spray wash. Fecal matter is liquefied and returns to the plant flow where it belongs. With fecal matter removed, the screenings can be thoroughly dewatered and compacted. The SMW-XE produces screenings discharge with up to 95% reduction in volume and up to 50% dry solids content.

Distribution

JWC Environmental distributes its products through a global network of independent representatives and distributors. In addition, JWC provides extensive sales and service support through regional and international product support centers. Celebrating almost forty years of being green, JWCE and its worldwide family of employees are committed to providing customers leading edge products, services and value. JWC has won a total of four Innovative Technology Awards from Water Environment Federation (WEF), more than any other wastewater manufacturer. For more information contact Alec Mackie at jwce@jwce.com, JWC Environmental, 290 Paularino Avenue, Costa Mesa, CA 92626, voice +1 800-331-2277, fax 949 833-8858, or visit them online at: www.jwce.com.

© 2010 JWC Environmental

Related