Waste Handlers are built to survive hostile environments.
Press Release Summary: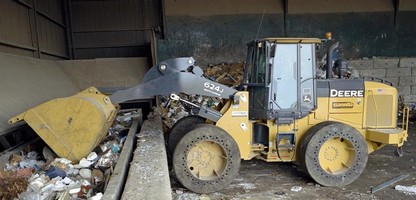 With all vulnerable machine components guarded to protect against trash infiltration and impact damage, models 544J and 624J handle up to 5 and 6 yd³ waste buckets, respectively. Both withstand airborne debris, are designed to promote operator visibility, and feature Quad-Cool(TM) cooling system. Additional features include hydraulic belly pans, front and rear hydraulic differential option, and electronically controlled, 160 or 180 hp PowerTech 6068H engine.
---
Original Press Release:

Deere Waste Handlers Thrive in Tough Environments



544J, 624J Deliver Industry-Best Durability, Productivity

MOLINE, Ill. (November 22, 2005)-The updated John Deere 544J and 624J Waste Handlers are built to provide maximum performance and productivity in the harshest possible environment-an apt description of the challenges that are typical of waste handling applications.

These machines are designed to withstand airborne debris, a common issue with waste handling that causes overheating and extensive radiator damage. John Deere's standard exclusive Quad-Cool(TM) system features coolers that are arranged side-by-side rather than stacked to allow easy cleaning access to both sides of each cooler. A hydraulically driven swing-out fan with a reversing feature conserves fuel by adjusting running speed to the system's cooling needs. The cooling package is isolated from the engine compartment, which helps minimize the preheating of incoming air.

"Refuse works it way into everything-clinging to intake screens, plugging coolers, and filling engine compartments-which can cause overheating," said Xenya Mucha, product marketing manager, waste handlers, John Deere Worldwide Construction & Forestry Company. "Quad-Cool, which is exclusive to Deere machines, keeps the 544J and 624J cool under the most grueling conditions. And for additional protection, the reversing fan purges every half hour, or the operator can manually activate this feature to blow out the debris at any time."

These machines are protected by extensive guarding to prevent debris build-up. Self-cleaning guards on the boom lift cylinders eject debris each time the boom is raised. A rear tire deflector serves as an access step to the engine and absorbs rear impact into the loader frame, rather than damaging the axle. The 624J waste handler can handle up to a six cubic yard waste bucket, while the 544J can use a bucket that's up to five cubic yards in size.

Several additional features are found only on Deere waste handlers, including axle seal guards that will fit any supplier's tire; hydraulic belly pans to facilitate easy cleaning; and a front and rear hydraulic differential option.

Both waste handlers feature an electronically controlled John Deere PowerTech 6068H engine, the 624J with 180 horsepower and the 544J with 160 horsepower. The 24-volt electrical system features a standard 80-amp alternator-the best in the industry. Both machines also provide a standard waste package that includes guarding for axle seals, loader frame access, bucket and boom cylinders/hydraulic lines. There are guards for the articulation joint, drive shaft, sensors and zerks, as well as frontal cab window guards. Extreme service cab steps mounted close to the engine frame are flexible to withstand impact and return to their original location and shape. The package also includes a lockable master disconnect switch in the cab floor and a cab roof mounted strobe light.

The loader transmission is a single-stage torque converter power shift, computer-controlled for smooth shifts under any power conditions. Planetary final drives and self-adjusting wet-disc brakes are mounted inboard for longer service life. The cab is built for comfort and convenience, with a cloth covered suspension seat, adjustable right armrest, standard fingertip controls and oversized windows for excellent visibility. Settings, such as boom kick-out, clutch cut-out and shifting characteristics, are programmable from the sealed switch pad in the cab-another feature that's unique to Deere machines.

"The 544J and 624J come fully equipped with everything they need to survive in the hostile waste environment," Mucha said. "From the high-visibility window bars to the hydraulic belly pans, all vulnerable machine components are guarded to protect them from trash infiltration and impact damage."

About John Deere: John Deere (Deere & Company-NYSE:DE) is the world's leading manufacturer of agricultural and forestry equipment; a major manufacturer of construction equipment; and a leading supplier of equipment used in lawn, grounds and turf care. Additionally, John Deere manufactures engines used in heavy equipment and provides financial services and other related activities that support the core businesses. Since it was founded in 1837, the company has established a heritage of quality products and services providing performance that endures to customers worldwide.

Key Specifications (high-lift configuration with a 4 cu.-yd. waste bucket):

                                      544J WH                        624J WH

Engine:                    John Deere PowerTech 6068H      John Deere PowerTech 6068H

SAE Net Peak Power:        160 hp (116 kW) @ 1900 rpm      180 hp (129 kW) @ 1800 rpm

Bucket Options:                   4-5 cubic yards               5-6 cubic yards

Operating Weight:                   34,400 lbs.                    40,000 lbs. 

Tipping load (full turn):           16,515 lbs.                    20,405 lbs.

Height to hinge pin, standard:      12 ft. 7 in.                   13 ft. 0 in.

Height to hinge pin, high lift:    13 ft. 10 in.                   14 ft. 4 in.
More from Computer Hardware & Peripherals