Washington Mills DURAMUL ZR: A Picture Worth a Thousand Words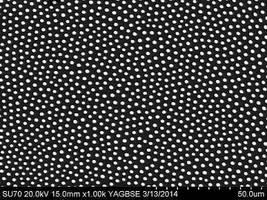 This SEM photo speaks to the unique characteristics of DURAMUL ZR, a high purity synthetic mineral consisting of a mullite phase and a zirconia phase. The dark area in the SEM photo represent the mullite phase, while the consistent white dots represent the zirconia phase.  The physical properties of DURAMUL ZR make this material ideal for ceramic and refractory applications. The combination of high purity zircon sand and high purity alumina are melted in an electric arc furnace and then poured into mold and allowed to solidify.



DURAMUL ZR consists of a mullite matrix reinforced with 1-2 micron Zirconia rods, which gives it the ability to withstand cracking during thermal cycling and also resistance to erosion when exposed to high temperature melts such as liquid steel. The purity of this mineral results in no transfer of impurities to contaminant-sensitive ceramic parts.



Washington Mills has the technology to consistently manufacture DURAMUL ZR grains that are clean, spot free and sized to precise size specification.



http://www.washingtonmills.com/products/mullite/



For more information, please contact us at 800-828-1666 or via email at info@washingtonmills.com



About Washington Mills

Washington Mills started manufacturing abrasives in the U.S in 1868 and over 140 years later, we continue to manufacture high quality refractory raw materials and serve thousands of customers around the world. We carefully select the raw materials we use to make our products and our in house laboratory tests all of our products during and after production to ensure our products meet the highest quality standards.



More from Laboratory and Research Supplies and Equipment