Walter Introduces G3011/G3021 Groovng System with Tiger-Tec Silver PVD Carbide Grades
Press Release Summary: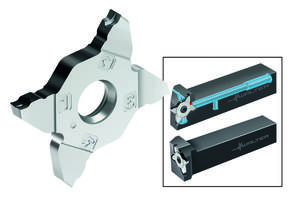 The G3011/G3021 Groovng System with MX grooving inserts improves productivity and reduces downtime. The inserts are available with widths ranging from 0.80 to 3.25 mm with a cutting depth of 6 mm and come with self-aligning tangential clamping. The holders are offered Tiger•tec® Silver PVD grades that reduce wear and exhibits toughness. The inserts feature four cutting edges per each insert that multiplies user productivity.
---
Original Press Release:
The New G3011/G3021 Holders with MX Grooving Inserts from Walter Boost Surface Quality, Productivity and Tool Life
Walter Cut MX System grooving inserts and G3011/G3021 holders feature decreased downtime and boost productivity.
Waukesha, WI—The Walter Cut MX grooving inserts deliver new, higher levels of flatness and surface quality with their tangentially-mounted arrangement in the G3011/G3021 holders. Four cutting edges per insert multiply user productivity and if one cutting edge breaks, the other cutting edges remain usable.
These MX grooving inserts, with widths from 0.031-0.127 in. (0.80 -3.25mm) and cutting depth of 0.24 in. (6 mm) feature self-aligning tangential clamping. This self-aligning clamping feature between MX inserts and G3011/G3021 holders permits fast and user-friendly replacement of cutting edges with optimum accuracy during changeover. Also, the inserts cannot be engaged incorrectly into the holders.
Tool life is substantially improved due to the Tiger·tec® Silver PVD carbide grades. The carbide exhibits excellent toughness and allows a reduction in machining time through its optimized microstructure. Also, with Tiger·tec® Silver PVD grades there is greatly reduced wear because of the integrity of the coating that is not susceptible to thermal stress variations during wet and dry machining.
The productivity of Walter Cut MX grooving inserts is enhanced by the Walter Cut G3011/G3021 toolholders which provide longer tool life and higher productivity with precision cooling on the rake face. Additionally, the dowel pin location feature of these holders insures correct insert seating and maximum indexing accuracy.
Walter, a global leader in the metalworking industry with over 90 years of experience in precision cutting tools for milling, drilling, turning, boring and specialized tools, helps customers improve process reliability and increase productivity. With Regional Headquarters in Waukesha, WI, Walter markets its competence brands Walter Valenite, Walter Titex, Walter Prototyp and Walter Multiply through a strong network of distributors and field engineers across subsidiaries in the USA, Canada, Mexico, Brazil and Argentina.
For further editorial information contact:
Kurt Ludeking, Director of Marketing
Walter USA, LLC
N22 W23977 RidgeView Pkwy West
Suite 100
Waukesha, WI 53188
800.945.5554 http://www.walter-tools.com/us
kurt.ludeking@walter-tools.com
More from Electrical Equipment & Systems