Wall-Mount Welding Fume Extractor reduces shop floor clutter.
Press Release Summary: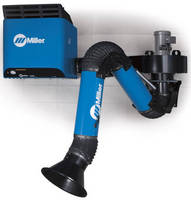 Designed for heavy-duty, industrial environments, FILTAIR(TM) SWX-series frees up floor space while improving work environment. Self-cleaning and disposable filter models are both available with 1 or 2 extraction arms offered in 7, 10, or 12 ft lengths. Providing 875 cfm airflow for fume removal up to max recommended hood distance of 14 in. from welding arc, surface-loading products employ nanofiber filters, which capture up to 95% of sub-micron welding fume particulates.
---
Original Press Release:
Miller Introduces Wall-Mounted Fume Extractors to Improve Air Quality, Reduce Shop Floor Clutter
Designed for heavy-duty industrial environments, Miller's new FILTAIR(TM) SWX-series wall-mounted fume extractors maximize floor space while also providing industry-leading welding fume filtration. Highlights/Key Facts
Convenient wall-mounted fume extractor frees up valuable floor space while also improving the work environment.
Available in self-cleaning or disposable filter models and with one or two extraction arms.
Designed specifically for welding fumes, nanofiber filters capture sub-micron particles that escape through other filters.
Three extraction arm-length options provide flexibility in work space design. Appleton, Wis. - Miller Electric Mfg. Co. introduces the new FILTAIR(TM) SWX-series of space-saving wall-mount welding fume extractors, featuring Miller's exclusive nanofiber filter technology. Available in either the self-cleaning SWX-S model or the disposable filter SWX-D model, the SWX-series allows companies to improve air quality and protect employees without cluttering their shop floors. Like the mobile FILTAIR MWX-series, the SWX-series uses surface-loading nanofiber filters designed specifically to capture the sub-micron particles found in welding fumes, including hexavalent chromium and manganese. Because the nanofiber filters are 'surface-loading,' they offer more holding capacity and less pressure drop than competitive, 'depth-loading' fume filters. The SWX-S and SWX-D provide 875 CFM (cubic feet per minute) airflow for excellent fume removal up to the maximum recommended hood distance of 14 inches from the welding arc. Designed for heavy-duty industrial use, both models are suitable for continuous filtration of Stick, flux-cored, MIG and TIG fumes. For added application flexibility, both SWX models are available with one or two extraction arms that come in lengths of 7, 10 or 12 feet. The extraction arms are designed to stay in position and won't sag over the course of the day. The SWX-S model features an innovative 'pulse-jet' cleaning mechanism that removes fume particles and restores the filter in approximately one-minute, significantly reducing the downtime associated with filter changeovers and the self-cleaning cycles of competitive products. SWX-series products are covered by a one-year parts and labor warranty. Product Manager Quotes "We understand that employers care about the health of their employees, and in that spirit Miller offers the most durable, highest performing fume extraction products available. Featuring our exclusive nanofiber filters, the SWX-series of fume extractors reflects this commitment while also recognizing the importance of maintaining a clean and uncluttered shop floor." -Al Hilbert, product Additional Product Information The FILTAIR SWX-series uses nanofiber filter technology to capture up to 95 percent of the smallest welding fume particulates. Welding fumes contain particles of different sizes, up to 90 percent of which are smaller than one micron (.000001 of a meter). Rated at MERV-15 (ASHRAE's Minimal Efficiency Reporting Value) the FILTAIR filter captures more particles at that size than cellulose-type filters and lasts longer. Typical cellulose filters are not even MERV rated and are designed to capture larger, dust-sized particles. MERV is an ASHRAE (American Society of Heating, Refrigerating and Air-Conditioning Engineers) standard used to classify filters based on their air-cleaning efficiency for different sized particles. MERV ratings range from 1 to 16. A MERV 15 rating means the filter is up to 95 -percent effective at filtering the 0.3- to 1-micron sized particles that are found specifically in welding fumes. The FILTAIR's nanofiber filters are surface loading, meaning they keep the particles on the surface of the filter, resulting in lower pressure drop and allowing the filter to breathe more freely longer. Most competitive models use cellulose or pretreated cellulose filters, which are depth loading, meaning they pull the particulates deep into the filter where they more quickly clog the pores, reducing their filter lives. Along with the nanofiber filter, FILTAIR machines are designed to maximize the airflow efficiencies, resulting in longer lasting suction power. About Miller Miller Electric Mfg. Co., headquartered in Appleton, Wis., is a leading worldwide manufacturer of Miller brand arc welding equipment and is a wholly owned subsidiary of Illinois Tool Works Inc. (NYSE: ITW). For more information, visit Miller's Web site at www.MillerWelds.com, call 1-800-4-A-Miller (800-426-4553), e-mail info@millerwelds.com, fax 877-327-8132, or write to Miller Electric Mfg. Co., P.O. Box 100, Lithonia, GA 30058.
More from Printing & Duplicating Equipment