Wall Mount Touch Panel enables extreme graphics and animation.
Press Release Summary: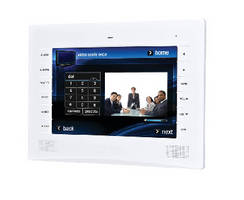 Equipped with 9 in. widescreen, Core 3 OS-ready Model TPMC-9L supports high-definition streaming video for IP/Web security cameras. Gestures navigation with intelligent velocity facilitates finger swipe control of theater systems, lighting, AV networks, thermostats, and security cameras. Twelve programmable hard-key pushbuttons, positioned along both edges of touch screen faceplate, align onscreen text and graphics to support context-sensitive menu functions.
---
Original Press Release:

Crestron Debuts Versatile TPMC-9L Wall Mount Touch Panel Delivering Speed, Performance And Style At A Great Value



TPMC-9L Supports New Core 3 OS, Enables Extreme Graphics and Widescreen
Display in a Sleek, Minimalist Design

Rockleigh, NJ, - Crestron announced today that the new TPMC-9L Wall Mount Touch Panel, the latest addition to its family of Core 3 OS-ready panels, is now shipping. TPMC-9L is the perfect-sized touch screen - large enough to enjoy a full, rich interactive user experience with a minimalist design that remains discreet in any setting. A 9" widescreen provides more space for designing custom graphical interfaces, and a larger display for viewing cover art, control apps and scores of other dynamic content. TPMC-9L also offers a slew of cool new media and communications tools like widgets and high-definition streaming video for IP/Web security cameras that instantly enhance whole home and building automation systems.

"The new TPMC-9L offers incredible value for a touch panel of this size," said Vincent Bruno, Crestron Director or Marketing. "With its slim profile and luxurious design, along with a widescreen display, this Core 3 OS-ready touch screen is a perfect solution for the most demanding system designers and interior designers."

TPMC-9L enables extreme graphics and animations, including cover flow and page flips. Gestures navigation with intelligent velocity makes finger swipe control of theater systems, lighting, AV networks, thermostats, security cameras, and any other connected home or building system fast, fun and easy. TPMC-9L is engineered to support the new Crestron Core 3 OS, the foundation for its new GUI framework.

TPMC-9L makes it easy for anyone to walk in and use right away. A stylish faceplate features 12 programmable hard-key pushbuttons for unlimited design and control flexibility in commercial and residential settings. Designed with ultra-intuitive operation in mind, pushbuttons are smartly positioned along both edges of the touch screen, conveniently aligning onscreen text and graphics right next to the corresponding pushbuttons to support context-sensitive menu functions such as movie and song titles or lighting presets. For designs where a simple, clean appearance is desired, TPMC-9L also ships with a sleek, button-less faceplate.

Featuring smooth lines and graceful contours, TPMC-9L easily mounts flush into walls, lecterns, podiums or even an equipment rack, adding a contemporary and elegant appearance to any environment.

For more information on TPMC-9L and the complete family of Crestron touch screens, please visit: www.crestron.com/touchpanels.

To get all the latest news, information and product updates subscribe to our RSS feed, "Like" us on Facebook and follow us on Twitter.

About Crestron

For more than 40 years Crestron has been the world's leading manufacturer of advanced control and automation systems, innovating technology and reinventing the way people live and work. Providing integrated solutions to control audio, video, lighting, computer, IP and environmental systems, Crestron streamlines technology, improving the quality of life for people in corporate conference rooms, hotels, classrooms, auditoriums, and in their homes. Crestron's leadership stems from its dedicated people who are committed to providing the best products, programs and services in the industry.

In addition to its World Headquarters in Rockleigh, New Jersey, Crestron has sales and support offices throughout the U.S., Canada, Europe, Asia, Latin America and Australia. Discover the world of Crestron by visiting www.crestron.com.

More from Material Processing