Walk-In Preheating Oven reaches temperatures up to 900°F.
Press Release Summary: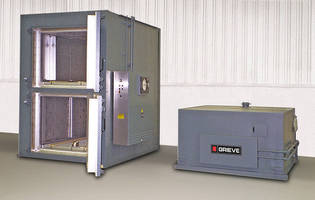 Along with 50 x 96 x 96 in. workspace, No. 846 features 8 in. thick insulated walls, 6 in. insulated floor, aluminized steel interior and exterior, and removable, top-mounted heat chamber. One 7,800 cfm, 5 hp, recirculating blower provides combination airflow to workload, and access to Type 304, 2B finish stainless steel heat chamber interior is facilitated by 2 independent doors (front and rear). Floor of each opening is reinforced for 5,000 lb loading at removable subway grate.
---
Original Press Release:
900° Walk-In Oven from Grieve
No. 846 is a 900°F (482°C), high temperature walk-in oven from Grieve, currently used for pre-heating steel molds at the customer's facility. Workspace dimensions of this oven measure 50" W x 96" D x 96" H. A 7800 CFM, 5-HP recirculating blower provides combination airflow to the workload.

This Grieve walk-in-oven features 8" thick insulated walls, 6" insulated floor, aluminized steel interior and exterior, plus a removable top-mounted heat chamber.  Type 304, 2B finish stainless steel heat chamber interior consists of two independent doors, front and rear, for access to workspace, each opening 40" high. Features include inner and outer door gaskets, with an inner gasket that seals directly against door plug; outer gasket seals directly against the front face of the oven. The floor of each opening is reinforced for 5,000 lb loading at removable subway grate.

Controls on No. 846 include a digital programming and recording temperature control and a manual reset excess temperature controller with separate contactors, plus a recirculating blower air flow safety switch.

For more information, please contact:
THE GRIEVE CORPORATION
500 Hart Road
Round Lake, Illinois 60073-2835
USA. Phone: (847) 546-8225
Fax: (847) 546-9210
Web: www.grievecorp.com
Email:  sales@grievecorp.com
Attention:  Frank Calabrese