Walk-Behind Pallet Truck provides programmed operation.
Press Release Summary: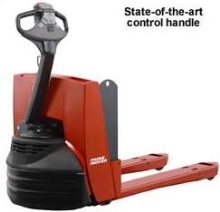 With 4,500 lb capacity, SMX45 walkie can be programmed for up to 10 operating modes controlled by PIN entries from keypad on control handle. Low-lift pallet truck includes Turtle Torque function that provides power boost to climb obstructions and anti-roll system that prevents unintended rolling in tight spaces and on inclines. Walkie features Battery Discharge Indicator, service display, and time-out function.
---
Original Press Release:

Prime-Mover Introduces High-Tech, Walk-Behind Pallet Truck


MUSCATINE, IOWA, U.S.A - Prime-Mover's new SMX45 walkie, low-lift pallet truck delivers cutting-edge technology and programmed operation along with a 4,500-pound (2,000-kg) capacity and the best turning radius in the industry.

The SMX45 can be programmed for up to 10 operating modes that can be controlled by PIN entries from the keypad on its state-of-the-art control handle. The modes can be used to limit operating performance for novice operators and in congested areas, yet provide maximum speed and productivity when appropriate. The special Turtle Torque function provides a power boost to climb obstructions, and an anti-roll system prevents unintended rolling in tight spaces and on inclines. A Battery Discharge Indicator with lift interrupt and 5-function hour meter that comes standard on the handle provides for close management of truck operation and minimizes the possibility of component or battery damage due to operation at low-voltage levels. Other features include a comprehensive service display, time-out function, controller access network (CAN Bus) technology to log operating and maintenance records and diagnose problems, and an optional 110-volt Plug-N-Go battery charger.

BT Prime-Mover, Inc., Muscatine, Iowa, is a division of the world's largest supplier of industrial equipment. Prime-Mover's "Rugged...Reliable...Right(TM)" products include BT Hand Pallet Trucks with capacities up to 5,000 pounds (2,200 kg), low-lifts up to 12,000 pounds (5,400 kg), walkie stackers up to 4,000 pounds (1,814 kg), 3,000 pound (1,300 kg) order pickers, reach trucks up to 4,500 pounds (2,000 kg), and stand-up counter balanced lift trucks up to 5,000 pounds (2,200 cg).

AGENCY CONTACT:

George Juvinall
Product Advocate
BT Prime-Mover, Inc
3305 North Highway 38
Muscatine, IA 52761-8800
563-262-7732
george.juvinall@bt-prime-mover.com
www.primemover.biz

Dave Sanderson
Wesley Day Advertising
1441 29th St., Suite 111
West Des Moines, IA 50266-6500
515-224-9330
dave@wda.com


Related