WAGO Introduces 750-494/000-005 to Measure Current Power Networks Up To 480 VAC and 277 VDC
Press Release Summary: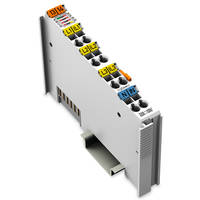 New 750-494/000-005 power measurement modules use external shunts to measure both AC and DC currents, can be used with any fieldbus, anywhere, and measure currents as high as 20,000 amps. Characteristic features include providing comprehensive analysis, monitoring numerous AC values such as voltage, current, power, power factors, and phase shift angles and frequencies.
---
Original Press Release:
WAGO Adds Shunt Current Measurement to Power Measurement Portfolio
Germantown, WI—April, 2018—WAGO adds an additional module to its current 3-phase power measurement line. The 750-494/000-005 uses external shunts to measure current power networks up to 480 VAC. The module can also be used to measure DC voltages up to 277 VDC and high currents on two channels. Benefits include:
For AC and DC currents
Flexibility: use with any fieldbus, anywhere
Measure high currents up to 20,000 amps
These modules provide users comprehensive analysis via fieldbus and the ability to use external shunts for current measurement. Like the other modules in WAGO's line of 3-phase power measurement modules, this new module also monitors numerous AC values such as voltage, current, power (active, reactive and apparent), power factors, phase shift angles and frequencies. These complement our current modules that use CT or Rogowski sensors for proportional current measurement. For more on the latest from WAGO, visit www.wago.us/news.
About WAGO:
Innovation is at the heart of everything we do at WAGO. From our pioneering CAGE CLAMP® spring pressure connection technology to our extensive range of Interconnect, Interface and Automation solutions, such as the fieldbus independent WAGO-I/O-SYSTEM, our customers count on the unconditional performance and reliability of our products to ensure the safe, efficient operation of their systems every time.
For additional information, visit www.wago.us. Contact WAGO at 1-800-DIN-RAIL or [email protected].
Contact: Charlie Norz, Product Manager—WAGO-I/O-SYSTEM
Phone: 1-800-346-7245
E-mail: [email protected]