WAGO Earns More UL Approvals on Products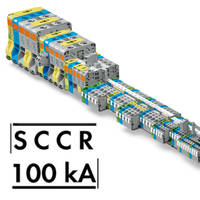 Germantown, WI - January, 2017 - Building control panels to the UL 508A standard with WAGO products has never been easier. WAGO has updated its UL file, with additional products that have been tested for increased short circuit current ratings, in cluding:
TOPJOB® S terminal blocks tested with additional circuit breaker combinations
New TOPJOB® S terminal blocks tested with fuses
POWER CAGE CLAMP® blocks with power tap/distribution accessory tested
New 350 kcmil POWER CAGE CLAMP® blocks tested with fuses
And more
To see a complete list of WAGO products updated with new UL approvals follow the link: Short Circuit Current Rating Product List. Contact info.us@wago.com for any additional questions.
About WAGO:
Innovation is at the heart of everything we do at WAGO. From our pioneering CAGE CLAMP® spring pressure connection technology to our extensive range of Interconnect, Interface and A utomation solutions, such as the fieldbus independent WAGO-I/O-SYSTEM, our customers count on the unconditional performance and reliability of our products to ensure the safe, efficient operation of their systems every time.
For additional information, visit www.wago.us.
Contact WAGO at 1-800-DIN-RAIL or info.us@wago.com.
Contact:
Michelle Goeman,
Product Manager,
Rail Mounted Terminal Blocks
Phone: 1-800-346-7245
E-mail: press.us@wago.com
More from Construction Equipment and Supplies