Wafer Probing System features interactive test environment.
Press Release Summary: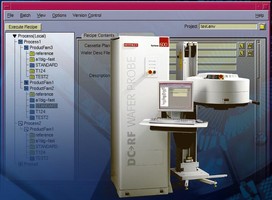 Series S600 Parametric Test System is available with KTE v5.2 wafer test development and execution environment. Users can create individual electrical tests at subsite level by drawing on pre-defined libraries then defining parameters and connections. Software features promote throughput for circuit materials testing, such as those requiring RF level frequencies. Environment also supports parallel test routines as well as acquisition of statistically significant RF data sets.
---
Original Press Release:

Keithley's New Parametric Test Software Upgrade Enhances Parallel Test, RF Test, and Ease of Use Capabilities



Cleveland, Ohio - December 7, 2006 - Keithley Instruments, Inc. (NYSE:KEI), a leader in solutions for emerging measurement needs, announces the release of KTE V5.2, Keithley's Interactive Test Environment software for the Series S600 Parametric Test System. KTE V5.2 provides a number of features that dramatically increase throughput for leading-edge circuit materials testing, such as those requiring RF level frequencies, as well as incorporating improvements in parallel test routines used for lab and production applications. In addition, the KTE V5.2 software update offers significant improvements in ease of use that simplify testing. To learn more about Keithley's KTE V5.2 software, visit www.keithley.com/pr/067.

This latest KTE software release represents a continuation of Keithley's commitment to continuous improvement and capital equipment reuse, helping test engineers lower their overall cost of test. Keithley is evolving its capabilities to meet the changing demands these customers increasingly are facing, such as more complete testing earlier in the process and acquiring statistically significant RF data sets for model calibration.

Keithley's KTE is a powerful wafer test development and execution environment that guides test engineers through the development of a test plan. Users can create individual electrical tests at the subsite level by drawing on pre-defined libraries of test, then defining parameters and connections.

KTE V5.2 is designed to work with Keithley's Series S600 Parametric Test Systems. The Series S600 is used in a wide range of tests, including process control, process and equipment tuning and optimization, wafer testing, and device modeling and characterization. The S600 has been in use for more than five generations of technology nodes within the semiconductor industry, a span of time that leads the industry with its record of capital equipment re-use that enables customers to lower their cost of test.

Enhanced Parallel Test Support

Among the most significant enhancements to the KTE V5.2 release are improvements in parallel test support. Parallel test has become a prime method for improving throughput and reducing cost of semiconductor test by allowing users to acquire more data in the same test time during process development or the same amount of data in less time during volume fabrication. New features included in the KTE V5.2 release include fully audited support for PT_Execute, a software routine that allows quick evaluation of parallel versus serial test. Older evaluation methods involved complicated user guidebooks that consume time and engineering resources. PT_Execute can be run in a few short keystrokes, which drastically shorten engineering development time and reduce overall cost of ownership. Another enhancement is FMI (Force-Measurement Interlock), a combined firmware/software solution that reduces crosstalk, noise, and measurement variability of test results.

Enhanced RF Test

The RF test enhancements in the new KTE V5.2, which include improved LRM calibration, are much more useful than existing techniques and unlike any comparable offering in the market today, because they enable correlated measurement and calibration in a production environment. These enhancements complement Keithley's S680 Parametric Test System with RF measurements, which can take precise DC and RF measurements simultaneously, making it suitable for both lab and production use.

Improved error message descriptions help simplify troubleshooting. Another enhancement involves the tracking of calibration site touchdowns for predicting probe tip wear-out. The RF test browser software package allows massive and rapid data reduction of large data sets to determine key RF parameters of interest, an enabling capability for RF device engineers for performing process control in real time.

Powerful New Subsystem Support

Keithley's KTE V5.2 also features improved support for embedded instrument sub-systems in ways designed to boost overall system test throughput. The system optimizes a variety of new sub-systems, including a new LCR meter that improves capacitance measurement throughput by up to 2X, a spectrum analyzer (increasingly being used for benchmark circuit analysis), and Keithley's Series 3400 Pulse/Pattern Generators. The Series 3400 Pulse/Pattern Generators meet the increasing need for pulse testing in advanced semiconductor device characterization and material research. These applications are driven mainly by the ongoing reduction in device size and increase in operating speeds of many electronic components and materials.

Improved Ease of Use

Keithley's KTE V5.2 also features significant improvements in ease of use. Enhancements in KRM (Keithley Recipe Manager) allow for multiple recipe editing and handling with input from one recipe (test routine), minimizing programmer intervention. Additional features include highlighting text found during a search function and adding an Undo function for editing during data input.

Price and availability: The KTE V5.2 for Keithley's Series S600 Parametric Test Systems starts at $740 USD for upgrades from KTE V5.1.

For More Information. For more information on Keithley's KTE V5.2 test environment, or any of its semiconductor test solutions, visit www.keithley.com/pr/067 or contact the company at:

Telephone:
800-688-9951
440-248-0400

FAX:
440-248-6168

E-mail:
publisher@keithley.com

Internet:
www.keithley.com

Address:
Keithley Instruments, Inc.
28775 Aurora Road
Cleveland, OH 44139-1891

About Keithley Instruments, Inc.
With 60 years of measurement expertise, Keithley Instruments has become a world leader in advanced electrical test instruments and systems from DC to RF (radio frequency). Its products solve emerging measurement needs in production testing, process monitoring, product development, and research. The company's customers are scientists and engineers in the worldwide electronics industry involved with advanced materials research, semiconductor device and wafer characterization and functional test, and the production of end products such as electronic assemblies or portable wireless devices. The value Keithley provides its customers is a combination of precision measurement technology and a rich understanding of their applications to improve the quality, throughput, and yield of their products.

Contact: Ellen Modock
Keithley Instruments, Inc.
440-498-2746
modock_ellen@keithley.com

Reader Inquiries: 1-800-688-9951

Related