Wafer Positioner offers integrated 3-axis tip/tilt stage.
Press Release Summary: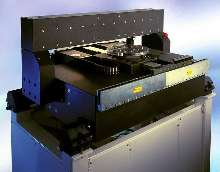 Designed for 300 mm wafer processing, DynamYX GT air-bearing wafer positioning system offers 6 axes of precision motion control. Machine includes silicon carbide stage, single plane system architecture, and low-profile design that reduces center of mass to minimize error from deflection or angular deviation. Alignment is achieved via Z-Tip-Tilt stage integrated on carriage in non-contact design. Machine offers both step-and-settle and step and scan capabilities.
---
Original Press Release:

Newport DynamYX GT Air-Bearing System Offers Greater Throughput, Integrated 3-axis Tip/Tilt Stage for 300mm Wafer Positioning


Irvine, California, USA - Newport Corporation's new DynamYX GT 300mm air-bearing wafer positioning system offers high throughput and extreme flexibility through 6 axis of precision motion control including an integrated 3-axis Tip/Tilt Stage. DynamYX GT is a high precision system specifically designed for the high demands of 300mm wafer processing in high-throughput semiconductor manufacturing. For optimum stability, DynamYX GT's strong, lightweight stage is constructed of silicon carbide, with a density close to aluminum and strength similar to that of steel, high stiffness and a close thermal match to both granite and silicon.

High-speed, high-accuracy wafer alignment is achieved with the DynamYX GT's 3-axis Z-Tip-Tilt (ZTT) stage integrated on the carriage in a low mass, low profile, high stiffness, and non-contact design. With a chuck interface of 105mm above the top surface of the reference granite, a 6-axis DynamYX with ZTT and theta system is the industry's lowest profile positioning system.

The DynamYX GT utilizes a large monolithic single plane system architecture providing highly damped, rigid, and stable construction. This results in superior system flatness and straightness and allows for excellent pitch, yaw, and roll control and thus absolute positional accuracy and repeatability.

The unit's low profile design reduces the center of mass minimizing the potential for error from deflection or angular deviation. Newport's patented pressure vacuum system allows the system to run at a constant fly height even in situations of high acceleration, while virtually eliminating the potential for particulate generation from the stage due to its frictionless design.

Newport's DynamYX system is capable of superior step-and-settle performance, as well as excellent step and scan capabilities. It is also capable of high precision wafer positioning in constant motion applications where high acceleration, high resolution, and superior repeatability are required. The new DynamYX system with its advanced capabilities and features provides higher system throughput, increased accuracy and system repeatability translating to a lower cost of ownership.

Newport Corporation is a leading global supplier of advanced technology products and systems to the semiconductor, communications, electronics and research markets. The company provides components and integrated subsystems to manufacturers of semiconductor processing equipment, advanced automated assembly and test systems to manufacturers of communications and electronics devices, and a broad array of high-precision components and instruments to commercial, academic and government customers worldwide. Newport's innovative solutions leverage its expertise in precision robotics and automation, sub-micron positioning systems, vibration isolation and optical subsystems to enhance the capabilities and productivity of its customers' manufacturing, engineering and research applications. Newport is part of the Standard & Poor's Midcap 400 Index and the Russell 2000 Index. For more information, visit www.newport.com, or contact the company at 1791 Deere Avenue, Irvine, California, USA, Tel. (In U.S.) (800) 222-6440; Tel: (949) 863-3144; Fax: (949) 253-1680.

More from Architectural & Civil Engineering Products