W.S. Tyler Certifies Test Sieves to New ASTM E 11 Standard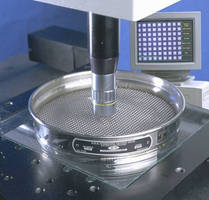 Mentor, Ohio-W. S. Tyler now performs examinations to certify that Test Sieves conform to the new ASTM E 11 Standard for Inspection and Calibration Grades. W.S. Tyler's Optical Analyzer is calibrated, ensuring the measurements are directly traceable to N.I.S.T., on a bi-annual basis.

Certification documents that include detailed histograms are supplied with both new and in-use test sieves. The Calibration Grade Certification process examines twice the number of apertures in a sieve than the Inspection Grade, and offers 99.73% assurance of accuracy.

W.S. Tyler also examines and Certifies metric sieve cloth openings to ISO 3310-1 Standard.

Traceable Certified Test Sieves are a requirement in many industry Quality System audits. With comprehensive Laboratory Services, W.S. Tyler has been in the forefront in offering premium sieve calibration services to ensure the consistent performance of Test Sieves.

Contact Product Manager Candace Blaker for more information (cblaker@wstyler.com), or visit the W.S. Tyler Industrial Group web site, www.wstyler.com.

W. S. Tyler is celebrating its 100th Year of Test Sieve production!

More from Software