W-LAN Test Receiver offers internal GPS receiver.
Press Release Summary: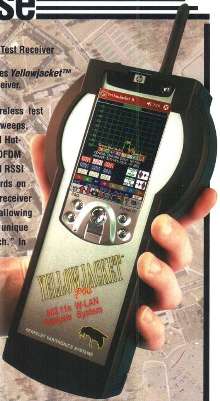 Hanheld Yellowjacket(TM) PLUS has built-in spectrum analyzer that sweeps, analyzes, optimizes, and secures 5 GHz Wi-Fi WISPs and hot spots. Calibrated receiver measures all 8 OFDM 802.11a channels for identification of MAC, SSID, and RSSI signal levels of Access Points AND NIC Client cards on or off network. It interfaces with embedded iPAQ and includes options for direction finding antenna and indoor mapping coverage software.
---
Original Press Release:

Berkeley Releases All-In-One Handheld 802.11a W-LAN Test Receiver


METUCHEN, New Jersey. -- October 29, 2003 -- BVS introduces Yellowjacket(TM) PLUS, an 802.11a Wi-Fi Analysis Tool with built-in GPS receiver.

Yellowjacket(TM) PLUS is a an all-in-one, portable, wireless test receiver system with built-in spectrum analyzer that sweeps, analyzes, optimizes and secures 5 GHz Wi-Fi WISPs and Hot-spots. It's proprietary calibrated receiver measures all 8 OFDM 802.11a channels for identification of any MAC, SSID and RSSI signal levels of both Access Points AND NIC Client cards on or off the network. Berkeley's Yellowjacket(TM) PLUS receiver interfaces with an embedded iPAQ (series model 5000) allowing those familiar with the iPAQ's PocketPC® interface a unique advantage over the inferior "card & software" approach. In addition, an internal 12-channel GPS receiver option may be added for comprehensive geo-coding of all drive-study measurements made by Yellowjacket(TM) PLUS. Optional direction finding antenna and indoor mapping coverage software also available now.

o 802.11a Calibrated Receiver
o Spectrum Analysis
o Embedded iPAQ
o Internal GPS Receiver
o Direction Finding Antenna Option
o Indoor Mapping Coverage Software Option

For more information, check out bvsystems.com/WLAN

More from Communication Systems & Equipment