VPX 3U SBC features 4th Gen Intel Core i7 CPU technology.
Press Release Summary: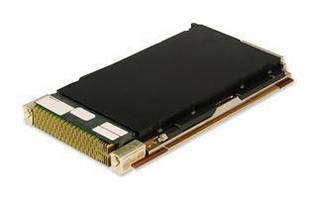 Rugged 3U VPX SBC, SBC326, leverages quad-core 4th generation Intel ®Core™ i7 processor and addresses existing command/control applications as well as deployment in signal processing applications, such as ISR, sonar, and radar. PCI Express® Gen3 technology and USB3.0 support promote bandwidth for on- and off-board connectivity as well as enable bandwidths required by demanding applications. PCIe interface makes SBC suited as host to drive GE GPGPU boards, such as IPN251 and NPN240.
---
Original Press Release:

New Single Board Computers from GE to Feature 4th Generation Intel® Core(TM) i7 Processor Technology



Broad range of platforms will feature latest Intel processors

New single board computers will deliver more performance with no increase in power or heat

Will enable new classes of demanding applications in smaller spaces



HUNTSVILLE, AL—GE Intelligent Platforms (NYSE: GE) today announced the SBC326 rugged 3U VPX single board computer. Featuring the quad-core 4th generation Intel ®Core™ i7 processor, it will provide outstanding performance per watt while helping to minimize size, weight and power (SWaP) in deployed subsystems – making it ideal for constrained environments such as manned- and unmanned vehicles.



Concurrently, GE announced that it would make available a broad range of new products based on 4th generation Intel Core i7 processors in a range of architectures and form factors, including rugged 6U VPX, 3U and 6U CompactPCI, and 6U VME single board computers and a dual processor multiprocessor.



All these new systems will deliver enhanced processor performance, enhanced graphics performance, superior connectivity and improved security – but within the same power envelope as previous generations. These improved capabilities will allow these new products not only to address existing command/control applications, but to be deployed in more demanding signal processing applications such as ISR (intelligence, surveillance and reconnaissance), sonar and radar.



The new products will also be in line with GE's continuing commitment to maximizing the value of customers' investments; the new products will be form, fit and function compatible with earlier models, providing GE's customers with a straightforward, cost-effective technology insertion opportunity that will enable customer systems to benefit from Intel's newest processors.



"Our customers' applications are increasing in complexity and in their demand for across-the-board performance – yet they are challenged by new generations of military platforms that need to be smaller and lighter than ever before," said Rod Rice, General Manager, Military & Aerospace Products at GE Intelligent Platforms. "The SBC326, and the products that will follow, address these needs by delivering more computing bandwidth in each chassis slot – enabling subsystems to deliver more capability with the same size, weight and power, or to deliver a level of capability that previously required more size, weight and power."



"With increased processing speeds and improved3D graphics performance compared to previous generations– with no increase in power or heat dissipation - the 4th generation Intel Core processor family represents another significant step forward in what is possible in a broad range of computing environments," said Sam Cravatta, Product Line Manager, Intel Intelligent Systems Group. "These improvements are very compelling for the rigorous demands of embedded computing, and we're confident that GE's customers will see real benefit from these new products."



The new single board computers benefit from the 4th generation Intel Core i7 processor's support of PCI Express® Gen3 technology and USB3.0, providing even greater bandwidth for on-board and off-board connectivity and enabling the high bandwidths required by today's applications. In particular, this high performance PCI Express interface makes the new products ideal hosts to drive GE's GPGPU boards, such as the IPN251 and NPN240.



About GE



GE (NYSE: GE) works on things that matter. The best people and the best technologies taking on the toughest challenges. Finding solutions in energy, health and home, transportation and finance. Building, powering, moving and curing the world. Not just imagining. Doing. GE works. For more information, visit the company's website at www.ge.com.



For more information: http://defense.ge-ip.com/products/vpx-intel/c160



For more technical information: : http://defense.ge-ip.com/download/sbc326/13510/3713



A high res image can be found at: www.genewscenter.com/imagelibrary/detail.asp?MediaDetailsID=5787



Intel and Intel Core are trademarks of Intel Corporation in the United States and other countries. PCI Express is a registered trademark of PCI-SIG. All other trademarks are the property of their respective owners.



Media contacts:



Ian McMurray

GE Intelligent Platforms

Phone: +44 (0) 1327 322821

Email: ian.mcmurray@ge.com

More from Electronic Components & Devices