VP889 FPGA Processing Board comes with Zynq ARM® processor.
Press Release Summary: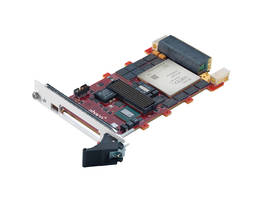 VP889 3U VPX FMC+ FPGA Processing Board is designed for applications such as military/defense, electronic warfare/ DRFM, radar/sonar processing and satellite communications systems. FMC+ provides digital serial bandwidth of up to 300 Gbits/second. Board comes with configurable serial interface options and VP889's Board Support Package. VP889 board can be accommodate I/O devices greater than 5 GSPS data rate or modules with up to 16 channels per card.
---
Original Press Release:
Abaco Announces High Performance 3U VPX FMC+ FPGA Carrier Featuring Xilinx Ultrascale+, Zynq Ultrascale+ Technology
Designed for mission critical military/defense electronic warfare applications
Delivers increased bandwidth, performance at lower power, smaller size
Provides simple, cost-effective upgrade for existing users
Abaco Systems today announced the VP889 high performance FPGA processing board, which features Xilinx®'s latest Ultrascale+™ device, together with Zynq® Ultrascale+ technology for advanced security. In line with Abaco's commitment to provide customers with simple, cost-effective upgradability/technology insertion that enables them to reach new levels of performance, the VP889 delivers a form, fit and function upgrade for the VP881.
The VP889 is designed for the most demanding, mission critical military/defense applications. These include electronic warfare/ DRFM, radar/sonar processing, satellite communications systems, multi-channel digital transmission/reception and advanced digital beamforming.
Next generation signal processing systems require more bandwidth and more processing capability at lower power and smaller size. The VP889 helps customers meet these demanding requirements on an open COTS platform. With FMC+, customers have up to 300 Gbits/second digital serial bandwidth to and from modular I/O devices. The VP889's combination of high performance processing and high density I/O delivers the flexibility to leverage Abaco's market-leading FMC and FMC+ (VITA 57) product portfolio.
"Military and aerospace programs must have the latest I/O and signal processing technology available at an affordable cost and with predictable timelines – and the VP889 delivers against those requirements," said Haydn Nelson, Director of Product Management, Advanced RF and DSP at Abaco. "By selecting the VP889, customers leverage our quality process, benefit from the security of a trusted supplier, and receive off-the-shelf capability that ensures the success of mission critical applications now and throughout the lifetime of a program."
Integration is simplified, and time to market reduced, via the VP889's Board Support Package which enables engineers to get started quickly and focus on their value added and proprietary IP rather than hardware implementation details.
The embedded Zynq ARM® Processor included on the VP889 eliminates the need for a single board computer in many systems, reducing system size, cost, and power consumption.
Configurable serial interface options, as well as a variety of FPGA densities to choose from, provides customers with the flexibility to select the device size and family that best fits their application technical and cost requirements without the expense associated with custom board development.
The FMC+ site supports all Abaco FMC cards as well as third party solutions that comply with VITA 57. The VP889 can be populated with I/O capable of greater than 5 GSPS data rate or modules with up to 16 channels per card. The flexibility of FMC gives customers the ability to address several system parameters from wide-band low-latency to multi-channel coherent systems.
About Abaco Systems
With more than 30 years' experience, Abaco Systems is a global leader in open architecture computing and electronic systems for aerospace, defense and industrial applications. We create innovative, modular solutions based on open standards that are characterized by outstanding price/performance, ultimate rugged reliability and minimal SWaP. Our goal is to be a significant contributor to our customers' success, partnering with them to reduce cost, time-to-deployment and risk and supporting them over the long term. With an active presence in hundreds of national asset platforms on land, sea and in the air, Abaco Systems is trusted where it matters most. www.abaco.com
More from Packaging Products & Equipment