Von Tongeren's New Mobile Classification System Separates Solid Particles Without Using Water
Press Release Summary: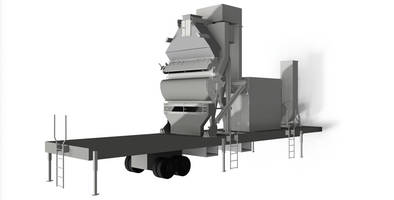 The new mobile classification system from Von Tongeren can separate sands and other aggregates such crushed stone, cement, gravel, and lime as without water.  The classifier is self-contained and can fit on a truck base. The system can run consistently unattended for a 24/7 operation and contains no moving parts. 
---
Original Press Release:
New Mobile Classification System Separates Aggregates Without Water
Oct. 30, 2018
Self-Contained Particle Separation System Fits on Standard Truck Base
Lebanon, PA, USA: Process equipment manufacturer Van Tongeren America, Lebanon, Pa. (Van-Tongeren.com), has unveiled a mobile version of its breakthrough dry particle classification system that separates materials on-site without requiring water. Developed for processing manufactured sand, frac sand, crushed stone, cement, gravel, lime and other materials, the new, mobile classification system sets the entire processing plant within a standard truck base to permit convenient movement among multiple sites and to make small or remote locations viable where constructing an entire plant would be cost-prohibitive or where water is not readily available. The mobile classifying system integrates the company's proprietary GravitationalInertial Classifier (GIC) system for particle separation and recovery with its Multicell cyclone system for safely managing exhaust gas at such high particle efficiency that ancillary baghouse dust collectors and precipitators may be eliminated. The pneumatic air classifier separates particles at any cut point from 300 μm to 63 μm (50 to 230 mesh) and consistently runs unattended in 24/7 operation with no moving parts for dependable service and virtually zero maintenance. Custom conveyors and other accessories may be added as needed. For a free brochure or more information, contact Van Tongeren America, LLC, 518 South 8th St., Lebanon, PA 17042 USA; 717-450-3835, www.Van-Tongeren.com.
More from Architectural & Civil Engineering Products