Voltage Transformers suit extreme isolation applications.
Press Release Summary: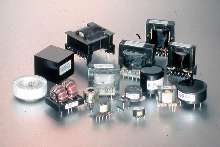 High Isolation Voltage Transformers are engineered for BIL ratings up to 60 kV and for corona inception/extinction voltages up to 20,000 Vrms at 60 Hz. They are AC HiPot tested at voltages to 40,000 Vrms at 60 Hz up to 1 minute. Specifications eliminate chance of product insulation system defects that could lead to catastrophic failure. Units are suited for medical, industrial control, and high efficiency power supply applications.
---
Original Press Release:
Bicron Adds BIL Rating to its Line of Corona-Free High Isolation Voltage Transformers

Bicron's series of High Isolation Voltage Transformers - RF transformers and inductors, gate drivers, unipolar and bipolar transformers - are engineered for BIL ratings up to 60KV and for corona inception/extinction voltages up to 20,000Vrms @60Hz. They are AC HiPot tested at voltages to 40,000Vrms @60Hz up to one minute. These values represent an increase over previous test standards and are a part of Bicron's dedication to continuous improvement in product quality. These specifications virtually eliminate the chance of product insulation system defects which could lead to eventual catastrophic failure.

Bicron's high isolation voltage designs, specially suited where
extreme isolation is required, should he considered in applications such as Medical, Industrial Control, and Hi-Efficiency Power Supplies.

Some of Bicron's design capabilities for these applications include:

Medical: RF transformers and inductors to 250KHz. Isolation transformers from 5VA-2500VA, 10-1000KHz, isolation to 40 KVAC. Step-up,down, and pulse transformers.

Industrial: Gate Drive, Pulse, and IGBT Driver: 5VA-2500VA, 10-
1000KHz, isolation to 40KV

High Efficiency Power Supply: Unipolar transformers: 5VA-2509VA,
flyback and forward converter. Bipolar transformers: 5VA-2500VA, 10-1000KHz. Optimized for minimum ACR, DCR and core loss.

Bicron's team of engineer's works with the customer to assure that the product meets the requirements of their application, whether it is a modification of a standard product or a completely new design.

Bicron Electronics, an ISO 9001:2000 Certified company, designs and manufactures a complete range of standard and custom high isolation voltage inductors, switch mode transformers, gate drivers, current sensors and other high reliability magnetic components.

Other Bicron products include a complete line of toroidal power
and isolation transformers, as well as a broad line of DC solenoids and linear actuators. Bicron has been a quality electronic products manufacturer since 1964.

More information can be obtained from:

Bicron Electronics Company

50 Barlow Street, Canaan, CT 06018

Tel: (860) 824-5125

Fax: (860) 824-1137

Email: info@BicronUSA.com

Web: www.BicronUSA.com
More from Agricultural & Farming Products