Voltage-Sensing Wire Feeder delivers speed and accuracy.
Press Release Summary: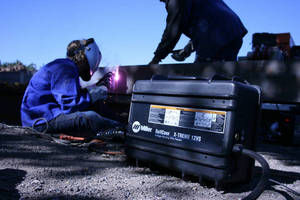 Intended for welding in heavy-duty field applications, SuitCase® X-TREME™ 12VS integrates drive motor assembly, motor control, and tachometer that provide electronic wire feed speed control and accuracy. Wire delivery system facilitates wire loading and minimizes resistance to help ensure consistent performance in MIG and Flux-Cored welding. Wire speed dual schedule feature is also included, and visual scale on wire pressure knob lets welders dial in tension setting.
---
Original Press Release:

Miller Introduces the Next Generation SuitCase® X-TREME(TM) 12VS Wire Feeder for Heavy-Duty MIG and Flux-Cored Field Welding Applications



New features include improved wire feed speed control and an improved wire delivery system for feeding accuracy and consistency



APPLETON, Wis. – Miller Electric Mfg. Co. has introduced the new SuitCase X-TREME 12VS voltage-sensing wire feeder; a feeder designed specifically for welding in heavy-duty field applications such as construction, structural steel erection, heavy equipment repair and mobile fabrication. The new SuitCase X-TREME 12VS features a new drive motor assembly, motor control and integrated tachometer that provides electronic wire feed speed control and accuracy that rivals the performance of bench-top-style feeders found in shop environments. A new wire delivery system also eases wire loading and provides minimal resistance in feeding, helping to further ensure consistent performance in MIG and Flux-Cored welding applications.



Comparable wire feeders tend to fluctuate in performance throughout the day: As ambient temperatures change, and as the feeder gets hotter or colder, wire feed speed can vary from its original setting. These changes in speed can lead to significant changes in deposition rates when welding, especially with large-diameter cored wires. The new drive motor assembly and integrated tachometer in the SuitCase X-TREME 12VS ensures the accuracy of the wire feed speed throughout the day so that the feeder performs to exact parameters, whether welding with small-diameter solid wire (.023 inch) or large-diameter cored wires (5/64 inch).



The new wire delivery system makes it easier to load the 12-inch wire spools and reduces drag on the wire by eliminating the inlet guide and allowing the wire to roll over the large radius of the drive rolls. It also features a new visual scale on the wire pressure knob that eliminates guesswork and allows welders to specifically dial in tension to settings they know provide the best performance for the size and type of wire they are working with.



(Miller customer Bob Jolson of Jolson Welding discusses the feeding consistency of the new feeders in this video.)



Additional new features include the redesigned placement of the shielding gas inlet (for MIG and dual-shielded Flux-Cored welding applications) to better protect the fitting from damage, and a new wire speed dual schedule feature that reduces wire feed speed to 87.5 percent of standard speed for applications such as pipe welding that may require the welder to adjust wire feed speed for changing joint geometries or positions without having to stop and change settings. This feature requires a dual schedule gun or switch (sold separately).



This new product retains features that have made the SuitCase line of wire feeders the standard for outdoor/portable MIG and Flux-Cored welding applications, including SunVision™ digital meters that display voltage and wire feed speed and can be seen even in bright sunlight; an extremely portable and reliable polypropylene case with built-in slide rails and the ability to open the door to change wire in the vertical position; and potted and trayed main printed circuit boards to ensure reliability even in harsh outdoor environments. The new SuitCase X-TREME 12VS is compatible with CC or CV DC power sources or engine-driven welder/generators. For more information visit MillerWelds.com.



About Miller

Miller Electric Mfg. Co., headquartered in Appleton, Wis., is a leading worldwide manufacturer of Miller brand arc welding products and is a wholly owned subsidiary of Illinois Tool Works Inc. (NYSE: ITW).



For more information, visit Miller's website at www.MillerWelds.com, call 1-800-4-A-Miller (800-426-4553), email info@millerwelds.com, fax 877-327-8132 or write to Miller Electric Mfg. Co., P.O. Box 100, Lithonia, GA 30058.



Contact:

Bill Elverman

Two Rivers Marketing

262-757-5803

bille@2rm.com

More from Computer Hardware & Peripherals