Voltage Indicator flashes if power present.
Press Release Summary: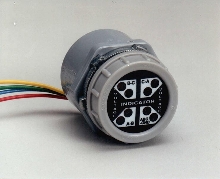 SP-0252A can be installed on 120 to 575 Vac, 50/60/400 Hz equipment or phase-to-phase distribution panels. UL-approved epoxy encapsulated enclosure has flashing LEDs to advise observer if voltage is present. It employs 4 independently operated voltage detectors. Each detector has 2 LEDs in series for better visibility. Three detectors monitor phase-to-phase voltage while fourth detector checks for dangerous potential to earth ground.
---
Original Press Release:
Model SP-0252A Voltage Indicator
Lancaster, PA....ATC's Diversified Electronics Division is pleased to announce a new Voltage Indicator, the SP-0252A. This product replaces the current SP-0252. The new model SP-0252A has an increased voltage and frequency operating range of 120-575VAC, 50/60/400Hz and is UL approved. Every year many fatalities occur due to the disregard of safety practices or in assuming power was OFF, while replacing or servicing electrical equipment. Eliminate the guesswork out of determining the presence of power in panels, install the SP-0252A on all 120V to 575V equipment or phase-to-phase distribution panels. The epoxy encapsulated enclosure features flashing LEDs to advise the observer if voltage is present without the aid of additional equipment. The SP-0252A employs four independently operated voltage detectors. Each detector has two LEDs in series for better visibility. Three of the detectors monitor phase-to-phase voltage while the fourth detector is important since with two line fuses open, no phase-to-phase voltage would be detected but the remaining phase could have a dangerous potential to Earth Ground. For more information contact ATC's Diversified Electronics Division at: 1511 East Main Street Leesburg, FL 34748-5336 Phone: 800-874-0619 Fax: 352-787-8798
More from HVAC