VoIP System works with any grade legacy copper.
Press Release Summary: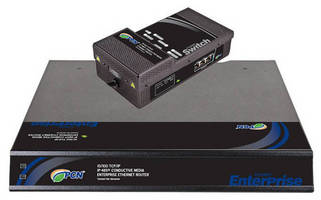 With one Ethernet connection to access Internet or outside data networks, UltraEdge™ enables access and transport for IP device connectivity at every edge. IP networked solution, providing VoIP Ethernet-on-Demand™ at distances of up to 1,500 ft, is built on Dynamic Adaptive Channeling data prioritization algorithms and supports third party standard Layer 2 and Layer 3 Ethernet switching, QoS, and various network security features.
---
Original Press Release:

PCN Introduces UltraEdge VoIP System for Any Grade Legacy Copper



Most Reliable System Providing VoIP Ethernet-on-Demand™ at Distances of up to 1500 Feet



San Diego, CA – PCN, the leader in connectivity solutions for legacy copper wiring today announces the introduction and availability of its UltraEdge™ system for rapid cost effective deployment of VoIP and Unified Communication data networks.



With a single Ethernet connection to access the Internet or outside data networks; the UltraEdge™ system requires limited IT knowledge for installation and enables access and transport for IP device connectivity at every edge. Using any grade copper the UltraEdge™ VoIP system easily interfaces to existing junction boxes, legacy PBX consoles, or other wiring infrastructure already in place.



Providing maximum capabilities and feature rich applications; the system is a true IP networked solution leveraging PCN's high-performance 19" Rack Mount Multi-Channel Server (PCN3485-MCS4) for 10/100 IP transport to every UltraEdge™ module (PCN3485-SCC1) which enables access for VoIP enabled phones or other devices. Unlike media converters, each UltraEdge™ module is a true Ethernet switch where each end point has access for up to three Ethernet RJ45 ports.



Unlike DSL extenders and converter technologies; the PCN UltraEdge™ solution is built on PCN's patented "Dynamic Adaptive Channeling" data prioritization algorithms which run over 500 times per second in real time scanning, monitoring and managing the physical layer of legacy copper looking for anomalies and moving IP data to its most optimum spot on the wire. This not only provides 3X the noise immunity of DSL, but enables distance stretching. When combined together this not only allows more reliability and robustness of your VoIP system, but provides access to IP at distances up to 1500 feet and far greater than other solutions.



Across the world there is an abundance of legacy copper that is unusable for IP enabled Ethernet systems and where running new structured cabling is either too expensive, or requires significant shut down and disruption to business operations. This is true for government buildings, hospitals, historic buildings, factories, college campuses and office buildings that have Cat-3 or older wiring.



"PCN provides its UltraEdge™ VoIP and Unified Communication systems and services largely to qualified network providers, system integrators, and large enterprise customers. They continue to tell us they need a solution that not only solves the IP integration problem across legacy copper for any wiring topology, but one that also allows them to continue using existing analog and digital solutions until their entire IP migration is complete. The PCN UltraEdge™ system does just that," stated Jeff Davis, VP of Sales for PCN.



Without having to run any new structured cabling, the UltraEdge™ system allows owners and integrators to instantly leverage and take advantage of legacy wiring as if their facility was just wired with new Cat 5/6 cabling.



The UltraEdge™ VoIP system supports high-speed 10/100Base-T Ethernet-on-Demand™ across any grade copper wiring topology. This includes multi-drop, daisy chain, point to point and others allowing access in the far reaches of a building or installation.



Davis also commented, "Customers love the fact that they can easily install the multi-channel router at their old PBX locations or at other junction wiring; and then simply drop a plug-and-play UltraEdge™ module anywhere to have immediate access to high-bandwidth VoIP networks."



The UltraEdge™ VoIP system supports third party standard Layer 2 and Layer 3 Ethernet switching, QoS and a variety of network security features including port security, multi-level passwords, DoD protections, SSH and SSL for encryption. When combined with PCN's physical layer technologies the result is a comprehensive VoIP and Unified Communications system that is more reliable, more robust and one that goes further.



For detailed information or ordering:

Please visit PCN's UltraEdge Information page at: www.pcntechnology.com or call 858-212-9939 to speak to a representative.



About PCN

PCN is the leading communications company designing, developing and manufacturing robust and reliable networking devices for legacy copper networks. Integrated with patented conductive media technologies, PCN transforms existing copper infrastructure into robust data networks that meet today's critical reliability, security, and application requirements. In support of its products, PCN provides network design, integration, compliance and marketing services. PCN is based in San Diego with additional engineering and support operations in the Midwest and manufacturing in the Pacific Northwest. For more information, go to: www.pcntechnology.com

More from Transportation Industry Products