Voice Recorder alerts passers by of potential dangers.
Press Release Summary: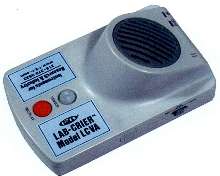 LAB-CRIER Model LCVA plays audible warning message when approaching individuals pass in front of unit's infrared sensor. Messages up to 20 seconds in length can be recorded on permanent, non-volatile memory chip via one-button operation; new announcements may be recorded as often as necessary. With 4 included AMA batteries, up to 13,680 messages may be recorded without loss of clarity. Warning light indicates low battery power.
---
Original Press Release:

Lab-Crier Model LCVA


Alert passers-by of potential dangers!!

Unlike caution, warning, or danger signs, the LAB-CRIER tells the approaching individual in a clear voice (yours) what to guard against. Whenever anyone passes in front of the devices's infrared sensor, your warning is played. Your message is recorded on a permanent, non-volatile memory chip. Simply record any message up to 20 seconds in length by a simple one-button operation. You can record new announcements as often as necessary. The four AMA batteries provide approximately 13,680 messages without loss of voice clarity and a warning light indicates low battery power. Batteries, large magnet for mounting, and double-sided mounting tape are included.

SAMPLE ANNOUNCEMENTS

"Please watch your step."
"Warning: Hazardous Chemicals inside."
"Danger, confined space, authorized personnel only."
"Fire Door. Please keep closed."
"All visitors please register at the office."
"Caution: Radiation"
"Danger, high voltage"
"Gloves are required in this area."
"Safety glasses are required in this lab."
"Film badge required in this area."
"Hot! Do not touch."
"I will be back at..."

If you would like more information please call:

1-800-762-2478


More from Fluid & Gas Flow Equipment