VMC suits mixed volume operations.
Press Release Summary: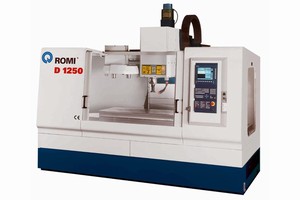 Featuring 50 x 24 x 25.2 in. work envelope and 52 x 22 in. work surface, D1250 vertical machining center offers traverse rates of 1,181 ipm (X-,Y-, and Z-axis) mean accelerated machine cycle times. Automatic tool changer with bi-directional selection mode offers 22-tool capacity and 5.5 sec station-to-station index time. Belt-driven heavy-duty cartridge-style headstock features 20 hp ac high-precision spindle motor with infinitely variable drive.
---
Original Press Release:

D Series Gives You What You Want: VMC Optimization



ERLANGER, KY - The D Series of VMC has been designed using the latest software and employing finite element analysis, making the D Series the most stable VMC ever built by Romi. It's a highly flexible, efficient and accurate solution for mixed volume, short-run operations as well as dedicated high-volume applications. Prototyping, tool room and production facilities alike, as well as the many current Romi turning machine users, are ideal candidates for the new D Series VMCs

With an ample work envelope of 50"(X) x 24"(Y) x 25.2"(Z) and a table work surface of 52" x 22", the D1250 combines high performance and large machining capacity within a compact 11' x 9' space-saving footprint. Rapid traverse rates of 1,181 imp (X- Y- and Z-axis) mean accelerated machine cycle time and reduced non-cut time which increases overall throughput. Servomotors directly coupled to high-precision ball screws provide excellent acceleration and deceleration performance as well as precise feed movement. Programmable cutting feed: 30 ipm to 590 ipm. Positioning accuracy: X, Y, Z: 0.0002". Repeatability in all three axes: ±0.0001".

Also minimizing cycle time is an automatic tool changer with bi-directional selection mode, 22-tool capacity and a fast 5.5 second station-to-station index time. (An optional double arm ATC with a horizontal disk and 30-tool capacity offers a 1.8 second tool change.)

The D1250 cast mono-block bed design supports the column and table, providing outstanding vibration dampening and the rigidity and stability required for today's heavy machining. The headstock and upper and lower tables travel on automatically lubricated ball screw-driven linear guides that guarantee ultra-precise positioning, accuracy and repeatability.

The spindle. A new belt-driven heavy-duty cartridge-style headstock features a high-torque 20 hp GE AC high-precision spindle motor with infinitely variable high-speed drive. BT or CAT 40 taper spindle options result in 6-6,000 RPM (optional 10,000 RPM) with combination bearings using ceramic balls to minimize heat. The headstock has been specifically designed to provide superior rigidity to ensure precision cutting, even during full-power machining in steel.

A fully automated lubrication system and coolant system, a pneumatic spindle taper cleaning system and complete machine enclosure with front and side doors for easy access to the work area are standard.

The control. The GE Fanuc 21i features the latest technological advancements in a uniquely small space. The 10.4" color LCD and full keyboard conveniently swivel for ease of operation. A shock absorber keeps the control in position when keys are pressed.

Romi Machine Guidance i software in the 21i is the ideal CNC for operators with varying levels of experience, as it simplifies the transition from manual programming to G code programming. As the operator's skill level rises and/or part geometry complexity increases, the operator can easily move through various levels of part programming generation. The 21i CNC has built-in machining cycles for slots, grooving, pocketing thread milling, drilling, boring, threading, contouring, and helical interpolation. These cycles generate a part program based on information the operator enters, as prompted, to describe the part. The CNC automatically generates the part program, which then can be converted to a standard G code format. Further, the 21i can be programmed offline or online using G code language and standard G code features available from GE Fanuc.

Romi's mold and die machining software is installed on the machine at IMTS.

For more than 70 years and some 140,000 installations Romi's innovation, reliability, dependability and ease-of-use have set it apart - and ahead of - the competition. Romi's combination and CNC lathes, turning centers and vertical and horizontal machining centers are meticulously built at its nine-plant manufacturing complex in Santa Barbara d'Oeste, Brazil, and are sold and supported in more than 60 countries. From its North American Headquarters in Erlanger, Kentucky, Romi provides an unparalleled degree of training, service and support for all Romi machine tool products.

For more information, contact Romi Machine Tools, Ltd; 1845 Airport Exchange Blvd.; Erlanger, KY 41018. Tel: 859/647-7566. Fax: 859/647-9122. Toll Free US & Canada: 1-877-ROMIUSA. Web: www.romiusa.com. e-mail: sales@romiusa.

More from Test & Measurement