Unmounted Superabrasive Wheels
Vitrified CBN Grinding Wheels minimize vibration.
Press Release Summary: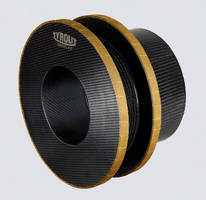 Featuring reinforced carbon fiber core that can be reused several times with addition of segments, GENIS CF Wheels are suitable for external cylindrical grinding of automotive components. Units feature thermally stable CBN grains within wear-resistant, vitrified bond, and porous abrasive layer that minimizes friction and heat generation in cutting zone. Wheels up to 700 mm dia are available for grinding truck crankshafts, while wheels up to 250 mm wide can be supplied for camshaft production.
---
Original Press Release:
Grinding Wheel with Carbon Fibre Core Weighs 80 Per Cent Less
New superabrasive product minimises vibration, consumes less energy and is easier to handle For external cylindrical grinding of automotive components such as camshafts, crankshafts and gear shafts in large volumes, Tyrolit has launched a range of vitrified CBN (cubic boron nitride) wheels that have a reinforced carbon fibre core. The new product, called GENIS CF, weighs one fifth of a conventional steel-cored grinding wheel. Advantages of such a drastic weight reduction are many. Most important, exceptional damping virtually eliminates vibration when the wheel is rotating. This translates into better surface finish on the component, improved roundness, lower run-out, less stress on the grinding spindle and drive motor, longer wheel life and a marked reduction in energy consumed. Fitting and removal wheels is easy, even those of large diameter, without the need for lifting equipment. In many applications, it is possible to increase productivity by reducing cycle times. In one GENIS CF test when grinding a 48-52 HRc cast iron camshaft at 100 m/s on a Landis 3L machine, the interval between wheel dressing was doubled from 800 to 1,600 components, leading to a 14 per cent increase in throughput. Construction of the new carbon fibre wheel employs Tyrolit's integral body and grinding layer technology. The carbon fibre core can be reused several times with the addition of new segments. Currently, wheels up to 700 mm diameter are available for grinding truck crankshafts, while wheels up to 250 mm wide can be supplied for car camshaft production. Sharp, thermally stable CBN grains of high fracture strength within a highly wear resistant, vitrified bond is the same formulation as in Tyrolit's steel-cored GENIS wheels. The porous abrasive layer minimises friction and heat generation in the cutting zone, allowing higher stock removal rates and faster grinding cycles. Better form holding is an additional advantage. For each application, Tyrolit analyses and optimises the process, providing a tailor-made wheel for the application and the machine on which the components will be ground. Advice on wheel preparation, grinding parameters and coolant delivery is also provided. As for all Tyrolit's industrial grinding tools, GENIS CF wheels are fitted with Wheel Memory, an embedded microchip that holds data on the grinding wheel. Information stored includes wheel specification, setting dimensions for key datums, maximum operating speed, the length of time it has been used and remaining life. Radio frequency identification enables two-way wireless transfer of this data between the wheel and the CNC system controlling the machine on which it is being used. Set-up time is reduced, with immediate restoration of process reliability after tool change, and crash avoidance is guaranteed as each wheel has a unique indentification.
More from Electronic Components & Devices