Visual Workplace Offers Do-It-Yourself Foam Tool Shadow Kits with 4 lb. Cross-Link, Closed-Cell Foam
Press Release Summary: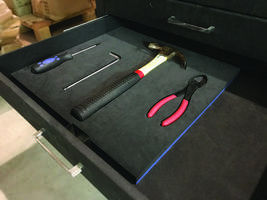 The Do-It-Yourself Foam Tool Shadow Kits enable operators to quickly visually identify when tools are not in proper place. The kits are offered in black/blue, black/red and black/yellow foam combinations. They feature pressure sensitive adhesive and adhesive tracing paper for securing placementing.
---
Original Press Release:
Visual Workplace Introduces DIY Foam Tool Organizer Kits
BYRON CENTER, MI – September 2018 – Visual Workplace, Inc., has introduced Do-It-Yourself Foam Tool Shadow Kits. The shadow boards keep tools and work areas organized, eliminating wasted time spent searching for tools. Tool control is an important part of a Lean work environment, reducing tool replacement costs, process variability, and even injuries and strain by having tools properly placed and readily available at the point of use.
The two-piece, closed-cell foam kits offer three contrasting color combinations so operators can quickly visually identify when tools are not in their proper place. The foam organizers can easily be placed in drawers or racks.
Each kit contains:
High quality 4 lb. cross-link, closed-cell foam
Black/blue, black/red, and black/yellow foam combinations
Pressure Sensitive Adhesive (PSA) for secure placement to contrasting ¼" foam
Adhesive tracing paper (eliminates trace marks on foam)
Tool organizers can also be customized easily and inexpensively to create the most organized and efficient work area possible.
Media Contacts:
Company: Jennifer Hayes | 616.583.9400 | jennifer@visualworkplaceinc.com  
Agency: Julie Eleftheriou | 952.913.3065 | julie@longrenparks.com
ABOUT VISUAL WORKPLACE, INC.
Visual Workplace is a global provider of 5S and Lean products that help users effectively implement and sustain an organized workplace that speaks for itself, that is self-ordering, self-explaining, self-regulating and self-improving.  Visual Workplace solutions are used in a wide range of industries such as automotive, consumer products, food and beverage, aerospace, retail, telecommunications, government/defense, pharmaceutical, healthcare and education, among others.
The heart of Visual Workplace's product line is the new Mobile In-House Sign Shop®, which enables users to make professional, custom signs quickly and easily, and at a fraction of the cost of a third party. Request a live demonstration of the Mobile In-House Sign Shop today. For more information or to request a free copy of our guide, visit www.visualworkplaceinc.com, email info@visualworkplaceinc.com, or call 1-616-583-9400.
More from Controls & Controllers