Visit DMP in Las Vegas at ISC West, Booth #23015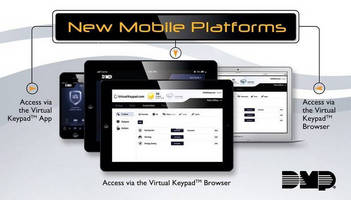 It's all about Mobile Platforms and RMR!



DMP



Springfield, MO - You won't want to miss visiting the DMP booth #23015, April 2-4, 2014, to view the latest mobile control launches. DMP offers multiple options for users to manage and monitor their systems via mobile devices with rich graphical interfaces that provide dealers with RMR opportunities and custom branding.



"Mobile platforms are turning up everywhere," said Vice President of Sales, Mark NeSmith. "Users will love the flexibility and functionality of DMP graphical interfaces whether using a browser on computer, an app on a phone or tablet or the stylish Touchscreen keypad. Dealers will be impressed by all the alarm features and control built-in to each of these products. Come and see these new platforms in action."



Browser-Based Control



Visitors will have the opportunity to get their hands on the new virtual keypad browser. Give your customers the ability to remotely control their security systems over the Internet. The Virtual Keypad Browser™ makes it convenient for users to access commonly used security functions available via their computer, tablet or smart phone:



Arm/Disarm

Control lights, locks, and thermostats

View and record video

Manage multiple systems from a single log-on

Add, edit and delete users

Smart Phone Control Options



Take a look at the new DMP Virtual Keypad App that offers a new look that matches the Graphics Touchscreen and browser both in features and looks. Users can take control on their smart phones or tablets similar to the browser based control and perform basic functions, control Z-Wave® devices and remotely view video cameras. The DMP App provides dealers with new RMR opportunities by offering these value-added features and more.



Add Cellular Communications to Any Panel 



Introducing the new CellComC and CellComCZ fully supervised alarm communicator operating over CDMA networks. This RMR generating machine provides dealers with a solution to update existing customer's panels or takeovers.  Extend the life and expand the capabilities of older panels by adding the power of advanced, digital cellular communication allowing for Virtual Keypad App control including viewing up to six cameras. With CellComCZ dealers can add Z-wave control. Dealers can now increase RMR without having to remove existing panel installs.



7800 Graphic Touchscreen Keypad



7800 provides end users with an easy-to-use graphical interface that blends with any décor, available in a white or black gloss.  All system features and functions can be accessed via the carousel menu on the large, 5-inch full-color Touchscreen. It is a 4-wire bus keypad compatible with all DMP panels.  Keypads include a proximity reader for code-less arming/disarming as well as support for four zones, all for a super low price of $124.50.



XR150|XR350|XR550 Series Access, Burglary, and Fire Panel



These panels include a 32-bit processor that operates at 20 times the speed of DMP XR500 panels, with 10/100 Ethernet auto-sensing that always ensures the fastest-possible network connection. The XR150, XR350, and XR550 offer 142, 374, or 574 zones, respectively with a choice or Net/Cell/Dialer. The new panels also provide added access control power, including 99 programmable schedules for areas, doors, outputs with up to eight schedules per profile, and up to four profiles per user.



XTL™ Wireless Security System



The most compact panel available is packed with the popular security features and functions of a full-size panel. The XTL is a conventional, distributed system, not an easily-disabled, all-in-one system.  A typical, complete XTL system can be installed in just over one hour, making it the fastest installing distributed panel available. XTL is available on the CDMA cellular network, wired Network or with Wi-Fi on-board.



XT Series™ Burglary/Fire/Door Control Panel



The ideal panel for both residential and small commercial applications, it can be customized to include any or all communication options: Network, Cellular (CDMA or HSPA+), and Dialer, with a built-in wireless receiver. The network capability and reliability of the XT make it a strong choice for banking, retail, and other commercial or large residential applications.



SCS-VR Virtual Receiver



This software enables Central Stations to replace physical receivers with an AES-encrypted, software-only receiver. This DMP exclusive is a UL 1610-classified solution, and also has a UL 1076 Proprietary listing, that manages all network IP and cellular IP alarm signals, supervision, and substitution messages without the maintenance, space, or power requirements of a physical receiver.



Entré Access & Security Management System Software



Users can have fast, simple, point-and-click control over every aspect of an access control or security system using Entré's intuitive, graphical user-interface. All security management activities are combined in a single, high-functioning platform. Entré access control software opens the door to Central Stations seeking new service and revenue opportunities. Entre Central Station is fast becoming the go-to choice for dealers wanting to do central station managed access control.



DMP is a privately held independent manufacturer of innovative intrusion, fire, access control, network, and cellular communication products that are designed, engineered, and assembled in Springfield, MO.  DMP is the recognized leader in alarm communication over data networks with products that are available through professional electronic security companies. For more information, contact Melissa Pitfield at (800) 641-4282, or visit www.dmp.com.



Create a Pitch™  © 2014 Pitchengine, Inc.









More from Electronic Components & Devices