Vision Inspection System inspects 2-piece hard-gelatin capsules.
Press Release Summary: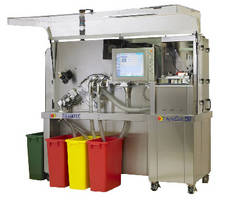 Providing 360° single-file inspection, InspeCaps 150 handles every type of capsule, including opaque, transparent, and translucent, whether empty or filled with powder, granules, or liquid. System inspects up to 120,000 capsules/hr, verifying all visual characteristics and automatically removing defects and foreign capsules from product stream. Additionally, InspeCaps 150 offers precise analysis of printing and inspects integrity of tamper-evident sealing bands.
---
Original Press Release:

Proditec Introduces InspeCaps 150 Inspection System for Capsules



Symetix and Proditec will co-exhibit at Interphex NY 2010 where Proditec is introducing InspeCaps 150, a new single-file vision inspection system for two-piece hard-gelatin capsules, which removes foreign capsules and capsules with cosmetic defects and shape irregularities. As the world's first inspection system that handles every type of capsule, including opaque, transparent and translucent whether empty or filled with powder, granules or liquid, InspeCaps 150 maximizes production versatility. As the first sorting system to achieve full 360 degree inspection of the capsules, including both ends, print inspection and banding inspection, InspeCaps 150 assures the highest product quality.

Ideal for capsule manufacturers as well as product manufacturers filling OTC and regulated pharmaceuticals and nutraceuticals, InspeCaps 150 inspects up to 120,000 capsules per hour, verifying all visual characteristics and automatically removing defects and foreign capsules from the product stream.

With high definition cameras, InspeCaps 150 achieves full 360 degree inspection, including capsule ends, without physically rotating the capsules. A patent-pending process captures simultaneous views with overlap, to give a perfect image of the entire capsule.

This unique imaging process enables InspeCaps 150 to reject capsules for all appearance problems including non-conforming color, dirt, V-notch, telescoped, a hole or scratch as well as shape problems such as a dented end, mashed, double cap, bent and banana shape. It offers precise analysis of printing regardless of print position and orientation, allowing the system to reject capsules with no print and incorrect, incomplete, blurry, fat and faint print. It also inspects the integrity of tamper evident sealing bands, identifying and removing banding problems such as the absence of the band and irregular and incomplete bands.

Empty capsule manufacturers and pharmaceutical fillers can use InspeCaps 150 in-line at the end of the production line to inspect the entire process and assure final product quality. The system can also be located after the filling machine or after the banding machine for in-line verification of the filling process or the banding process, respectively. Off-line, InspeCaps 150 can be used to run batches that failed AQL and need to be sorted.

Unlike traditional drum-based inspection systems, InspeCaps 150 changeover time is less than five minutes with no tools required. In addition, it does not require costly sets of format parts - only three plug-and-play change parts, which are supplied with the standard system, allow capsules ranging in size from #00 to #5 to be sorted. Product settings can be stored in memory for quick and easy recall while a self-learning capability further speeds set-up and eases operation. A 17-inch color touchscreen control panel offers user-friendly graphics and intuitive operation to help reduce training requirements.

Designed for easy cleaning, InspeCaps 150 features a GMP balcony-style configuration and open architecture for immediate access to all parts. Fast removal and reinstallation of system parts allow InspeCaps 150 to be quickly cleared and cleaned and ready to handle the next product run. This entire process takes less than one hour.

Featuring a centrifugal bowl feeder that leads to a single-file vacuum conveyor, which securely holds each capsule in position throughout the operation, InspeCaps 150 ejects a single capsule when a defect is identified.

InspeCaps 150 is FDA 21 CFR part 11 compliant with user authentication. Designed to meet FDA requirements and GAMP guidelines, InspeCaps 150 includes a full technical documentation package that includes IQ/OQ for easy validation.

Automatic capsule feeding peripherals are available to automate the feeding of InspeCaps 150 and achieve a continuous, unmanned operation.

For more information about InspeCaps 150, visit http://www.proditec.com/eng/proditec-tablet-inspection.php#offre.

About Proditec

Proditec designs and manufactures automated inspection systems for solid dose pharmaceutical products. Tablets and capsules can be inspected at high speeds for all visual and dimensional flaws, foreign contamination and printing integrity, either in-line or off-line for batch recovery. Additional capabilities can be integrated such as Near Infra Red (NIR) inspection to validate the actual content of the product at full production speed. From its headquarters in Bordeaux, France and subsidiaries in the USA (Philadelphia) and Singapore, Proditec maintains a network of local and international partners that supports a customer base in more than 30 countries.

About Symetix

Symetix is a product line of Key Technology. With 60 years of experience in the food, tobacco, and pharmaceutical industries, Key is a leading manufacturer of best-in-class process automation systems. Symetix offers worldwide sales representation and maintains demonstration and testing facilities at Key's headquarters and manufacturing divisions in Walla Walla, Washington, USA, and at Key Technology BV in Beusichem, the Netherlands. Key's common stock trades on The NASDAQ Global Market under the symbol: KTEC.

About Proditec and Symetix

Proditec and Symetix are working together to better serve the needs of the pharmaceutical and nutraceutical markets. The companies will share a booth at the Interphex trade show in New York City.

Proditec Inquiries:

For the Americas

Frederic Le Pape

Tel: +1 610 660 8003

flepape@proditec.com

More from Electronic Components & Devices