Vision Inspection System can download inspection files.
Press Release Summary: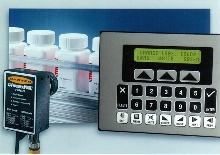 Vision inspection system consists of PresencePLUS2(TM) vision sensor, CLO1 Operator Interface Terminal, and Edict-97 software. Edict-97 software includes drivers for PresencePLUS2 sensors, and PresencePLUS2 Windows software interfaces directly to CLO1 HMI. Users set inspections to be run, and save inspection parameters on Windows PCs. Saved inspections (.inp files) are transferred from PC to CLO1 operator interface terminal with serial cable.
---
Original Press Release:

Vision Sensor & HMI Interface Allows Rapid Vision Inspection Changeover For Multiple Production Runs


VISION SENSOR & HMI INTERFACE ALLOWS RAPID VISION INSPECTION CHANGEOVER FOR MULTIPLE PRODUCTION RUNS.

Minneapolis, MN-October 18, 2001-Banner Engineering Corp., Minneapolis, MN and Red Lion Controls, York, PA have introduced a vision inspection system that allows users to instantly change inspection parameters when processing multiple products requiring frequent changeover. The system consists of the Banner PresencePLUS2T vision sensor, Red Lion CLO1 Operator Interface Terminal and Red Lion Edict-97 software.

Banner's easy-to-use, affordable PresencePLUS2 vision sensor now more conveniently runs on lines that frequently change the parts or packages they are manufacturing or inspecting. Red Lion has teamed with Banner, empowering factories with an interface terminal that will store inspection parameters and instantly upload the desired inspection to the PresencePLUS2 sensor. More specifically, Red Lion has written a PresencePLUS2driver for its Edict-97 software. This driver allows the PresencePLUS2 sensor and the PresencePLUS2 Windows software to interface directly to Red Lion HMIs-including the CLO1.

This new system is an excellent solution for a variety of industries including packaging, food and beverage, electronics, pharmaceutical, automotive, parts manufacturing and final assembly-all types of automated assembly and inspection. For example, brand-labeled vitamin manufacturers package the same product in different styles and colors of bottles and labels. The PresencePLUS2 sensor verifies that a date code/lot code is
printed on the vitamin package. When the line changes to a different style bottle, a different set of inspection parameters is immediately loaded to correctly verify the date code/lot code presence.

The new system operates by using the PresencePLUS2sensor and software. The user sets up the inspections to be run and saves the inspection parameters on their Windows PC. Then the user transfers the saved inspections (.inp files) from the Windows PC to the Red Lion CLO1 operator interface terminal with a serial cable. The Red Lion CLO1 is then ready to download the stored inspection files to the PresencePLUS2 via an RS232 serial port and cable. Inspection changes can be done manually using the
CLOl's friendly "hot-keys" or user defined button sequences. Automatic inspection changes can also be programmed into a PLC or other interface solution for multiple product inspections.

The total solution costs less than $2,000. The PresencePLUS2sensor is $1,173 including its free software; a full kit including the sensor, light, lens, bracket and quick-
disconnect cable is $1,595. The Red-Lion CLO1 operator interface terminal is $299.

More from Computer Hardware & Peripherals