Video Production Switcher functions as virtual 6 M/E device.
Press Release Summary: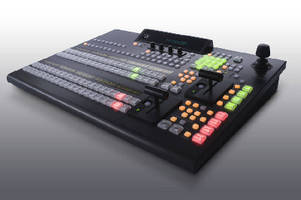 With MINI M/E functionality, Model HVS-390HS enables operators to deploy any aux bus transition with cuts, mixes, or wipes, and display keyer complete with DVE functions. MINI M/E feature can be independently controlled or operated from master/slave configuration. It can also follow any bus on 1 or 2 M/E, making switcher suitable for single user. In addition, MINI M/E can be expanded into half M/E function, allowing HVS-390HS to be configured into 2.5 M/E mixer.
---
Original Press Release:

FOR-A Announces Innovative New Features of HVS-390HS Video Production Switcher



Updates make unit an industry first virtual 6 M/E switcher



Cypress, CA — FOR-A Company Limited, a leading manufacturer of video and audio systems for the broadcast and professional video industries, announces new features of its compact, cost-effective HVS-390HS video production switcher. First introduced at last year's NAB Show as a 1 M/E to 2 M/E switcher, FOR-A has added unique capabilities to the unit that have never been seen before in this class of production switcher. The new functionality, referred to as a MINI M/E, is an extension of the aux bus system that allows operators to deploy any aux bus transition with cuts, mixes, or wipes, and display a keyer complete with DVE functions. The MINI M/E is now offered as a standard feature of the HVS-390HS, and brings the power of a virtual 6 M/E switcher in a 2 M/E unit.



The MINI M/E feature of the HVS-390HS can be useful in a variety of applications. For productions where distributing an automatic second language feed is desired, the switcher's MINI M/E can switch independent mixer outputs, simultaneously displaying second language graphics. In house of worship productions, operators using the HVS-390HS can easily produce graphics or song lyrics on side screens that vary from the main screen visuals. For studio applications, a production team can display different information on the monitors viewed by the audience, such as indicating that it's time for applause or providing different information, or perform simple on-set monitor positions where transitions with cuts, mixes, wipes, and graphics can contribute to the production workflow. All of these actions can be controlled from an aux bus remote panel or the main work surface.



The MINI M/E can be independently controlled or operated from a master/slave configuration. It can also follow any bus on 1 or 2 M/E, making the switcher easy for a single user. In addition, the MINI M/E can be expanded into a half M/E function, allowing the HVS-390HS to be configured into a 2.5 M/E mixer. The half M/E can also be controlled in a remote location where a traditional A/B bus mixer is used along with up to 4 DSK. With options, the HVS-390HS has the capabilities of up to an 8 M/E switcher.



"The new capabilities of the HVS-390HS offer powerful tools to create a richer audience experience in many scenarios," explained Jay Shinn, FOR-A Corporation of America's Northeast Sales Manager. "The MINI M/E features offer cost-effective functionality never seen before in this type of switcher. We're confident that the HVS-390HS will greatly improve productions for our customers in broadcast, house of worship, education and corporate video."



The ability to add in up to four additional mix effects is built into the HVS-390HS at no additional cost and with no extra software needed. Additionally, FOR-A is now also offering a new wireless LAN interface for configuration and control from touch screen surfaces, such as an iPad. The switcher is now more affordable than ever, available for $26,500.



About FOR-A

FOR-A is a major manufacturer and distributor of video and audio systems to the broadcast, postproduction and professional video markets. For more information about FOR-A's product line, call 714-894-3311 or visit our web site at www.for-a.com.



FOR-A CORPORATION OF AMERICA, 11155 Knott Ave., Suite G&H, Cypress, C.A. 90630 Phone: 714-894-3311, Fax 714-894-5399 Web site: www.for-a.com

More from Material Processing