Video Monitoring System helps golfers view blind tee shots.
Press Release Summary: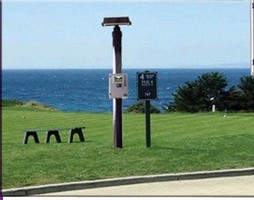 Providing detailed view of pin placement on elevated green as well as other golfers who may be playing ahead on the same hole, CaddyCam wireless solar-powered golf course monitoring system is comprised of two 10 ft pole structure units. Camera, transmitter, and solar panel form the camera unit, which is typically located to the side of fairway. Monitor unit supports mounted receiver, solar panel, and enclosed color LCD monitor, and is positioned by tee box or cart path.
---
Original Press Release:

Sun Surveillance Inc. Launches CaddyCam, the First Ever Wireless Video Monitoring System that Allows Golfers to View Blind Tee Shots



10/13/2006

The term "fore!" may soon become obsolete with the use of CaddyCam, the first ever wireless solar powered golf course monitoring system. Sun Surveillance, the manufacturers of SolsticeCam, has always been the pioneer in providing reliable and affordable wireless solar powered surveillance solutions. With the success of SolsticeCam, now the industry standard for turnkey wireless solar powered camera systems, Sun Surveillance has continued to develop innovative solar powered solutions.

CaddyCam, the first ever wireless solar powered monitoring system that allows golfers to view a remote blind spot from the tee, removes the threat of striking other golfers who may be playing ahead on the same hole. The CaddyCam monitoring system can also be used to see a detailed view of the pin placement on an elevated green.

The CaddyCam monitoring system is comprised of two units. The camera unit is an aesthetically pleasing ten foot pole structure on which the camera and transmitter are mounted as well as the solar panel. The location of the camera unit is typically to the side of the fairway in a location that does not interfere with play. The monitor unit is also a ten foot pole structure that supports a mounted receiver, solar panel, and an enclosed color LCD monitor for viewing. The monitoring unit is conveniently positioned by the tee box or cart path. As golfers prepare to hit, they can view the monitor to see if it is safe to hit. Golfers simply press the button on the enclosure to view the real-time video.

After extensive research, development, design, and testing, the first unit was placed on a golf course for a period of six months. The feedback provided by golf course members and golf course management was so positive that Sun Surveillance immediately sought the patent.

The users of CaddyCam stated that not only did the monitoring system provide safeguard from injury, but there were other benefits that CaddyCam provided for both the club professional and its members. The speed of play was also improved because previously, golfers were walking or driving their golf carts up the fairway to see if it was safe to hit. Another benefit the golfers liked was the unique playing experience CaddyCam provided that was unavailable at other courses. Management was also pleased with the ease of installation of CaddyCam, which requires only minimal setup, with no digging or trenching. And finally, golf course management was provided opportunities financially by allowing select businesses to place advertisement on the unit itself.

Press Inquiries:
Sun Surveillance, Inc.
1810 E. Poinsett Street Ext. Ste. #4
Greer, South Carolina 29651
Phone: 864-336-0034
Fax: 864-278-3030
sunsurveillance.com

Contact Name: Charlie Dobbins
E-mail: charlie.dobbins@sunsurveillance.com

More from Sensors, Monitors & Transducers